It seems like everyone is taking the opportunity to announce their good news on Valentine's Day. Chinese actor, Yuan Hong (袁弘) and Taiwanese musician, David Tao (王陶喆), both decided to announce the birth of their sons today.
Cast and Air Date Announced for "Viva La Romance" Season 4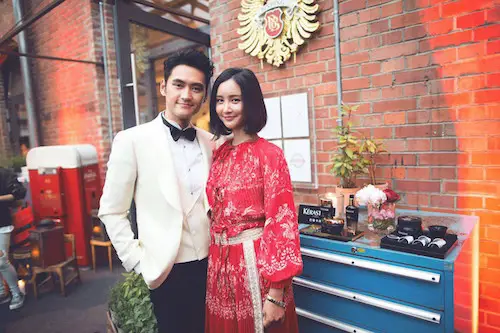 Hua Chenyu Once Contemplated Suicide
Chinese actor, Yuan Hong and his wife, Zhang Xinyi (張歆藝) got married in 2016. He announced the birth of their first child, a son, on Weibo today. He showed a picture of his son wearing a onesie saying, "Ladies, I have arrived" along with the following caption: "Valentine's Day, Zhang Xinyi gave me another "love rival." Zhang Xinyi responded back to his post and said: "I will try harder and give you another "little lover." It sounds like the couple wants to try for a girl next.
As for David Tao, the 49 year old announced the birth of his first son, "Bon Bon." He wrote a long message dedicating it to his wife, Penny, for enduring all the pain and suffering with the pregnancy. He also said, "Why did I have to wait almost fifty years for this "first time"? But I believe this was all God's planning." David Tao and his wife, Penny, were married in 2014. Penny is 16 years younger than David Tao. Unfortunately, Penny had a miscarriage in 2017, but soon announced she was pregnant again in June 2018.
Credit: ETtoday.net (1, 2), hk.on.cc, Yuan Hong Weibo