Congratulations are in order for Mark Chao and Gao Yuanyuan as she has given birth to a baby girl today! Mark Chao announced the good news on Weibo today with the following post: "Beautiful day in welcoming a beautiful life. Mother and daughter are both healthy. Thank you everyone." Gao Yuanyuan commented on the post with three emojis.
Mark Chao and Allen Deng Star in Guo Jingming's Movie Adaptation of Japanese Novel Series, "Onmyōji"
Mark Chao and Gao Yuanyuan Announce Pregnancy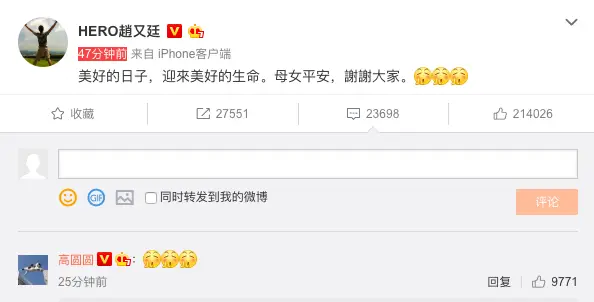 Mark Chao Doesn't Mind Being Called "Gao Yuanyuan's Husband"
According to the Chinese media, Gao Yuanyuan gave birth in Beijing. There were previous rumors she was due to give birth in July or August of this year. The couple announced the pregnancy just last month. This is their first child after being married for 5 years.
Credit: Sina Ent, Apple Daily TW, Mark Chao Weibo