TVB rising actor Arnold Kwok (郭子豪), gained fame through the hit 2018 series, "Life on the Line" (跳躍生命線). However, his popularity took a hit when he was charged with a DUI back in March. Before his DUI scandal can be forgotten, he was hit with a cheating scandal today. It has been rumored Arnold Kwok is cheating on his non-industry girlfriend of three years, Karen, with Miss Hong Kong 2018 First Runner Up, Amber Tang (鄧卓殷). It's reported the two sparked up feelings while filming for variety show, "Liza's Online" (娛樂大家). The two have often been seen at the same gym together. The rumors were spurred on further when paparazzi caught Arnold Kwok and Amber Tang looking at properties together. Afterwards, it was said Arnold Kwok was seen rushing to Karen's home.
"Life on the Line's" Arnold Kwok Not Relying on Family Fortune
Arnold Kwok "Stole" Wu Fei from Tiffany Lau
Arnold Kwok quickly squashed the rumors by uploading an IG story saying, "Because it involves people not from the industry and it's not like any happy news, so I didn't announce my status. She and I have broke up for some time now. Thanks to the media for your concern, but I hope you give me some space. Lately, there have been a lot of things happening already. Grateful, grateful."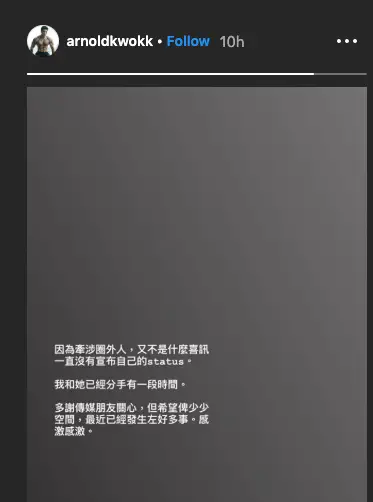 Oriental Daily News contacted Arnold Kwok and he responded with the following, "We broke up earlier in the year. The other party is not in the industry. I don't want to drag (others) too much. I want to clarify the break up had nothing to do with Amber Tang. There were no overlapping events." When asked on his current relationship with Amber Tang, he said, "We're in the middle of getting to know each other. We are definitely not living together. Because my license is suspended, I want to live closer to TVB. That day, a bunch of us were eating together. Afterwards, I said I wanted to see some properties. Coincidentally, she was free at the time so she accompanied me. We are not living together!" On his thoughts about Amber Tang, he declined to respond.
As for Amber Tang, she revealed in an interview back in April that she had broken up with her boyfriend of 6 years due to long distance relationship issues. At the time, she said she needed some time to slowly recover and doesn't wish to go through another LDR.
The situation gets more interesting as Arnold Kwok's ex-girlfriend, Karen, puts up an interesting post, seemingly directed at him. She said, "People are always selfishly saying they love you, but the next second, in order to protect themselves, use a bunch of lies to cover their mistakes. Blindly trusting only brings more harm in the end. To forgive is to free yourself. No need to wear out my heart, I won't be softhearted anymore."
Something seems to be amiss because back in April, a netizen reported Arnold Kwok was seen going out with a short girl while Karen was on a business trip in the US. Arnold Kwok was also seen out and about with Karen in April. It seems like the events Arnold Kwok stated didn't play out the same way in Karen's mind.
Credit: hk.on.cc (1, 2), hk01.com, Amber Tang IG, Arnold Kwok IG