Taiwanese singer Elva Hsiao (蕭亞軒) has kept a low profile for the past year and a half due to her health issues. She has been laying low to nurse her health back to normal. During her hiatus, she had to battle against malicious accusations from the press, alleging she contracted AIDS. Back in June, she was rumored to be dating an actor, 16 years her junior. She never responded to the rumors until her 40th birthday on August 24.
miss A's Meng Jia is Dating Elva Hsiao's Ex-Boyfriend
Elva Hsiao's Boyfriend, Justin Wong, Gets Candid about Their 16 Year Age Gap on "Roast"
Shortly after midnight, Elva Hsiao posted a collage of her with her new boo along with the caption, "Love requires us to be together." on Faebook and Weibo. The man in the picture is the same 24 year old guy she was rumored to be dating back in May and in 2017, Justin Wong (黃皓). He reposted Elva Hsiao's post on Weibo and said, "To be with you" plus a heart emoji. It's reported the two met at a club. Back in 2017, Taiwan paparazzi caught the two together and reported Justin Wong stayed over Elva Hsiao's place for over 12 hours.
Elva Hsiao Denies Contracting AIDS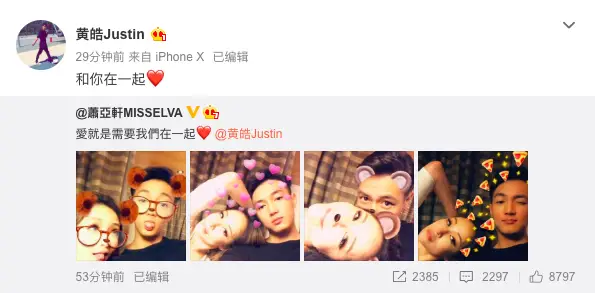 Elva Hsiao Rumored to be Dating 24 Year Old Actor
As for Justin Wong, he is the youngest boyfriend in Elva Hsiao's public dating history. Netizens left many supportive comments knowing what a rough two years she has experienced. One netizen said, "Seeing you happy is good.", while someone else said, "Don't just focus on falling in love, hurry up and release an album and hold a concert."