Chinese actress, Jin Chen (金晨), and Jeffrey Tung (董又霖) of "Idol Producer" fame, were in the headlines last week after they were allegedly spotted kissing each other in the streets. The two never responded to the rumors. Jeffrey Tung was in the headlines two days ago for his red carpet hosting mishap at the GQ Men of the Year awards. What was funny was when he shook Jin Chen's ex-boyfriend, Allen Deng's (邓伦) hand on the red carpet, but didn't interview him.
Jin Chen Decides Not to Continue Dating Zhang Jike on "Meeting Mr. Right 3"
Jeffrey Tung's Company Makes it Very Clear He is Single
Even though there were no statements from either party, everyone believed the pictures were already solid evidence they were together. However, it seems their relationship getting exposed might have caused them to split as Jin Chen posted on Instagram yesterday with the caption, "Are you satisfied?". Nothing seemed out of the ordinary until Jeffrey Tung left a comment on her post, saying, "I respect your choice. Wish you all the best."
Juck Zhang Denies Cheating Allegations with Jin Chen and Deng Yuli while Dating Girlfriend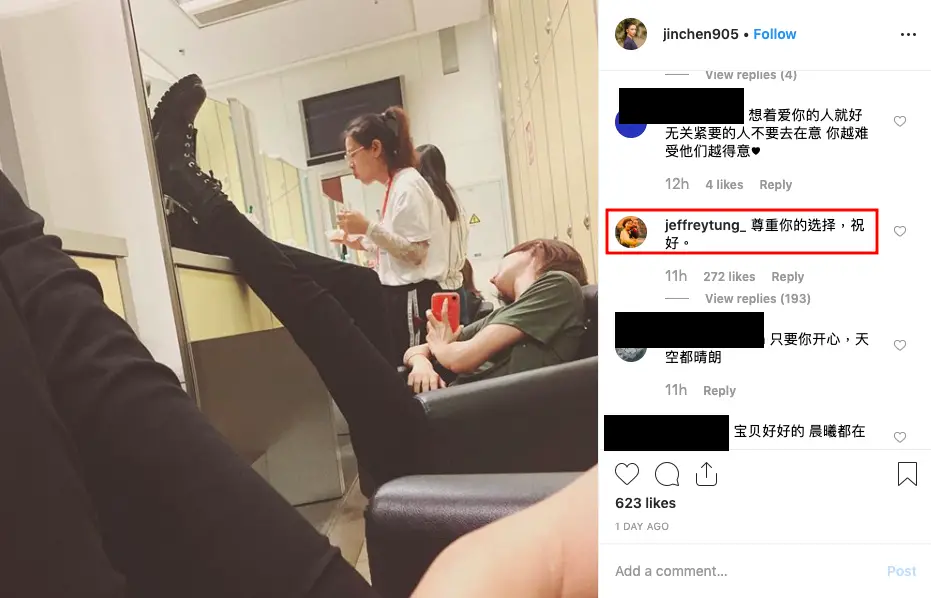 Actress Jin Chen and Jeffrey Tung from "Idol Producer" Rumored to be Dating
It's uncertain what Jeffrey Tung's comment meant. Many netizens left comments such as, "If you guys are dating, please take it seriously. If you guys are playing around, then don't date.", "Doesn't feel like it was an amicable break up.", "Dead once it was exposed.", "When romance comes too quickly, does it seem like a typhoon?" Someone also used the same phrase that was once used by Goo Hae Sun, "He only seemed to love me for a short period of time." Neither of them have addressed these break up rumors either.
Jin Chen Responds to Netizens Saying She is Hyping Up Dating Rumors with "Gossip Girl" Co-Star, Juck Zhang
Credit: ETtoday, Jin Chen Weibo, Jeffrey Tung Weibo, Jin Chen IG