TVB held its 52nd Anniversary Gala Show on November 19th. Even though the show was pre-recorded, they still managed to get some laughs with one segment. Edwin Siu (蕭正楠), Priscilla Wong (黃翠如), Tony Hung (洪永城), and Raymond Cho (曹永廉) were in a segment called "True or False". Each one of them makes a statement and the members guess whether it is true or false.
Rebecca Zhu Complains about Tony Hung Improvising Too Many Sudden Intimate Scenes
Priscilla Wong goes first and shocks everyone when she reveals she has seen Tony Hung completely nude. Edwin Siu asks Priscilla Wong if she's sure she saw it. He and Raymond Cho use hand gestures to hint the size of Tony Hung's manhood is small.
Priscilla Wong and Inez Leong Come Clean about Size of Tony Hung's Private Parts
Tension Between Tony Hung and Rebecca Zhu Rumored to Have Escalated, Only One to Return in "Wonder Women" Sequel?
Tony Hung then asks Priscilla Wong where she saw him nude and to be careful of what she says as he has a girlfriend. She responds, "Turkey bathhouse. You didn't wear any clothes that time. Tony Hung says it was a bunch of men at that time and asked how she was able to enter. Priscilla Wong says, "I took a peek!".
Priscilla Wong Doesn't Want to "Ruin It" for Men by Introducing Them to Natalie Tong
Rebecca Zhu Talks about Current Relationship with Tony Hung and His "No Comment" about Her
Edwin Siu, Priscilla Wong's husband, then proceeds to ask about the shape of Tony Hung's manhood. Priscilla Wong sticks up her pinky finger. Tony Hung then retaliates and says, "Have you guys respected me? Publicly discussing my organ." Priscilla Wong raises her pinky finger again and asks, "Then is it like this?" Tony Hung responds, "Am I supposed to take it out and prove to you? I don't believe you saw it." Edwin Siu believes Priscilla Wong's story, while she says "I only liked him (Edwin Siu) after seeing his (Tony Hung)." As it turns out, the story was true.
Frankie Lam and Priscilla Wong Bond Over the Loss of Their Spouses in "Life After Death"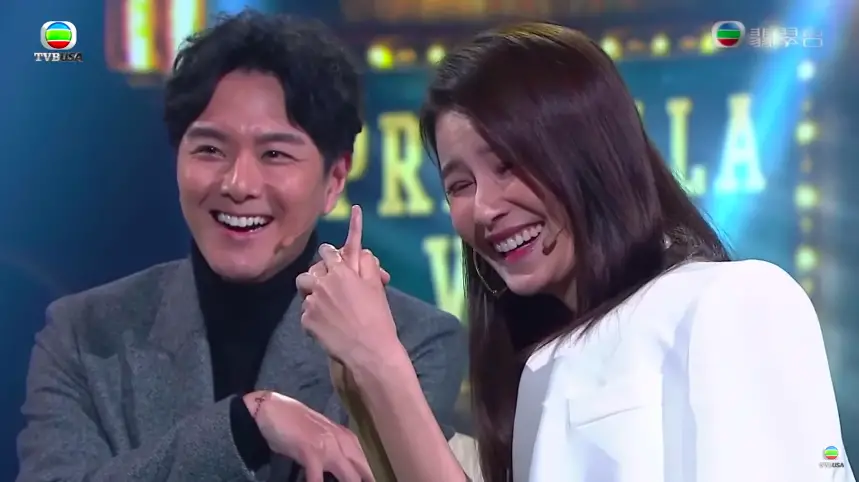 Priscilla Wong Shuts Down Plastic Surgery Accusations
Credit: TVB Youtube