Choi Siwon caused a ruckus on November 24 when he liked a tweet about the Hong Kong protests from "The Chosun Ilbo". Chinese netizens saw this move as him supporting the Hong Kong movements. As a result of his behavior, his fans and Chinese E.L.Fs (Super Junior fan name) issued statements condemning his action and threatened to boycott all his activities, including the upcoming Super Junior 8 concert in Macau. Even after his first apology, fans were ready to sever ties with him. His biggest fan club, "Choi Siwon Bar", announced they were shutting down their site on November 25 because of this incident.
Chinese Fans are Rallying to Boycott Choi Siwon After Twitter Incident
Since the first apology didn't quell any of his fans, Choi Siwon issued a second apology on Weibo today. He wrote:
"Hello everyone, I am Choi Siwon.
Regarding the recent error I committed on Twitter that made everyone feel disappointed and hurt, I deeply express my apologies for this.
Especially as an artist, I let down everyone who had given me their expectations and trust. I feel extremely guilty and sad.
I have never denied or change my thoughts and stance that Hong Kong is an inseparable part of China!
Lastly, I would like to express my deepest apologies to everyone again, sorry."
Choi Siwon Angers C-Netz After Liking Tweet Seemingly in Support of Hong Kong Protests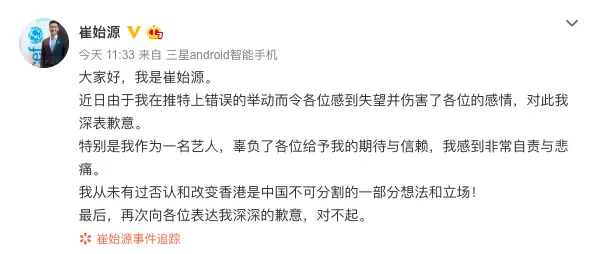 His second apology didn't do much to quell the anger of his Chinese fans and Chinese E.L.Fs either. They are not ready to forgive him with many of the fans leaving similar comments, saying, "If you have the guts, apologize on Instagram, Facebook, and Twitter. Only issuing a statement on Weibo is useless.", "Liked you for so many years, really can't forgive this time. There are no idols before our country. Goodbye youth.", "Then synchronize the message on all social media platforms. Don't just limit it to China.", "Facebook, Instagram, Twitter, I suggest you post on all of them. Don't just limit it to China. By the way, as an artist, is it upsetting for you not to touch politics? The whole group just made a comeback and this happens. Do you think it's not difficult enough for everyone already?", "Can you not show up at the Macau show?".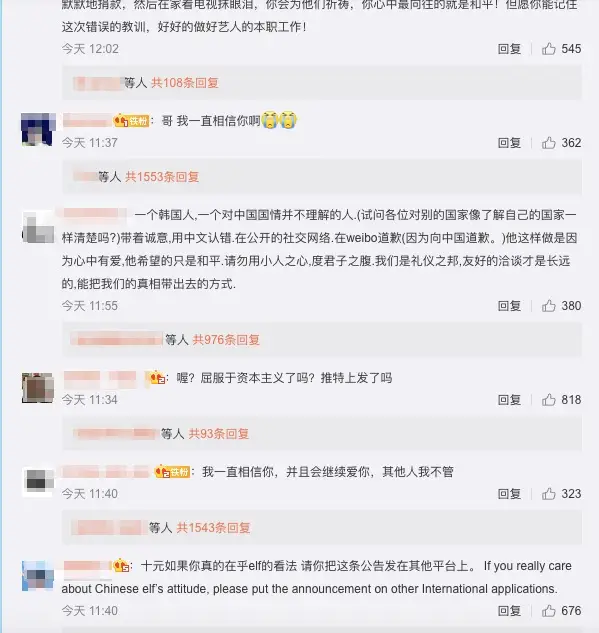 One of the biggest Chinese Super Junior fan club, "Baidu Super Junior Bar", also left a comment on his second apology saying, "All C-ELF were C before they became ELF. We will work hard to protect what it represents. We hope Mr. Choi Siwon can understand and respect our bottom line. Don't do anything that will test our bottom line again. Lastly, hugging each person who truly invested their tears and was hurt later on."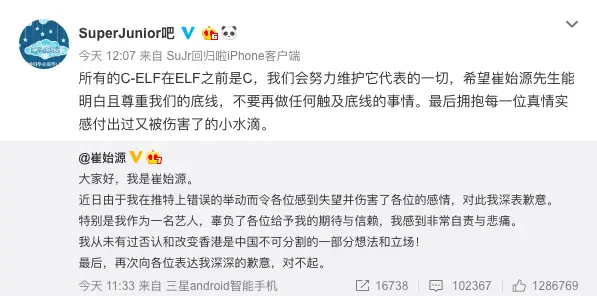 In the sea of angry and disappointed comments, there were a minority of fans who chose to forgive and defend him. They left comments saying, "Hope you can peacefully do your job well as an idol in the future. Don't interfere with things that you shouldn't be focused on. You've already hurt a lot of people's hearts.", "Let him go. Really…", "This stance is very clear. There is nothing ambiguous about it. I accept.", "I believe you're not that kind of person.", "I believe you. I will always be behind you.", "I'm still here. I still believe in you.", "I've always believed you and will continue loving you. I don't care about other people.", "Ge, I've always believed in you."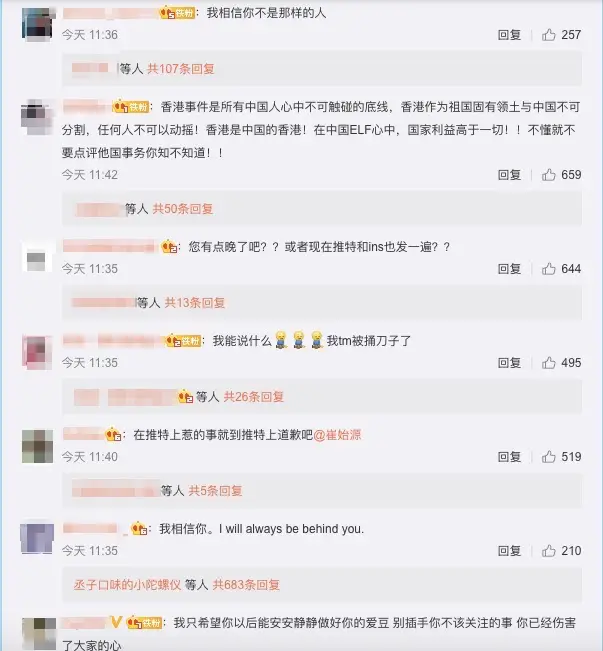 What is interesting is that Choi Siwon gained back over 24,000 followers on Weibo since yesterday. It could mean some of the fans have forgiven him or netizens are just curious in what he has to say next. As of the writing of this article, he hasn't shared his sentiments on other social media platforms.
Credit: ETtoday, Choi Siwon Weibo, Choi Siwon IG