Back in August, Zhang Mingen (张铭恩) and Lulu Xu (徐璐) confirmed their dating rumors when the former uploaded a vlog of their dating life on Weibo. As it turns out, the two were going to be on the reality show, "Meeting Mr. Right 2", which chronicled their dating life witnessed by Lulu Xu's father. However, fans started to worry about the couple when Lulu Xu uploaded a post on Oasis, Weibo's new Instagram-like app.
Zhang Mingen and Lulu Xu Confirm They Are Dating
Zhang Mingen Reveals Break Up with Lulu Xu, Denies Dating Hu Bingqing After Being Spotted Together
Her post read, "A new beginning. Every person must go through a lot of separation in life. This also allows us to learn how to grow, experience a different lifestyle! I just want to say I'm grateful, thank you. I will become an even better version of myself."
Hu Bingqing Alleges Zhang Mingen Taught Her How to Accuse Lulu Xu of Bullying Her for Damage Control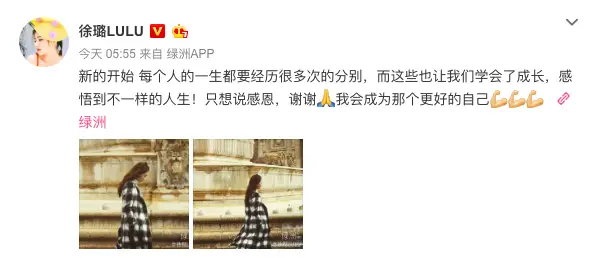 Netizens and fans started worrying and speculating whether Lulu Xu and Zhang Mingen broke up due to her post mentioning separation. However, several fans expressed Lulu Xu was just saying farewell to her character as she just wrapped up filming.
Sina Entertainment reached out to Lulu Xu's team and they responded, "I am working with other artists right now. Go ask our other colleagues." As for Zhang Mingen, his team hasn't responded yet.