Chinese actor, Zhang Mingen (张铭恩), who debuted in the 2016 series, "The Mystic Nine" (老九門), was rumored to be dating his co-star, Lulu Xu (徐璐), from the series "Destiny's Love" (爱上北斗星男友). The two never confirmed the dating rumors until today. On the eve of Chinese Valentine's Day, the two finally confirmed they are dating through a vlog Zhang Mingen uploaded to his account.
Fans Worried Lulu Xu and Zhang Mingen Broke Up Due to Her Recent Post
Zhang Mingen Reveals Break Up with Lulu Xu, Denies Dating Hu Bingqing After Being Spotted Together
Hu Bingqing Alleges Zhang Mingen Taught Her How to Accuse Lulu Xu of Bullying Her for Damage Control
Back in February, Zhang Mingen and Lulu Xu were caught holding hands at a mall. The two never addressed the rumors. In May, they were photographed shopping at the supermarket together. Once again, they didn't address the rumors. It's reported the two were in the midst of filming for the reality dating show "Meeting Mr. Right" (女儿们的恋爱2).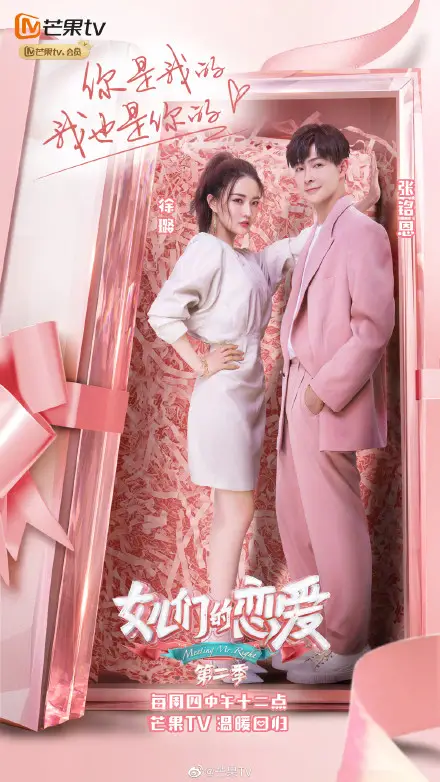 Zhang Mingen's stance started to change when Barbie Hsu (大S) asked him if he was dating on the reality dating show, "Dream Space 2" (恋梦空间2), where both are on the panel. Zhang Mingen is taken aback and is shy about responding. At first he replies, "How do I say it…you can say I have a lot of rich experiences. Barbie Hsu then says he didn't answer the question directly. So he responds, "In the middle of dating…"
You can watch the episode here: https://www.youtube.com/watch?v=Jh8n_y5ecpY
Zhang Mingen posted the vlog on his account with the caption: "The vlog is yours, you're mine @徐璐LULU." Lulu Xu responded to Zhang Mingen's post saying, "The vlog is mine, you're also mine @张铭恩."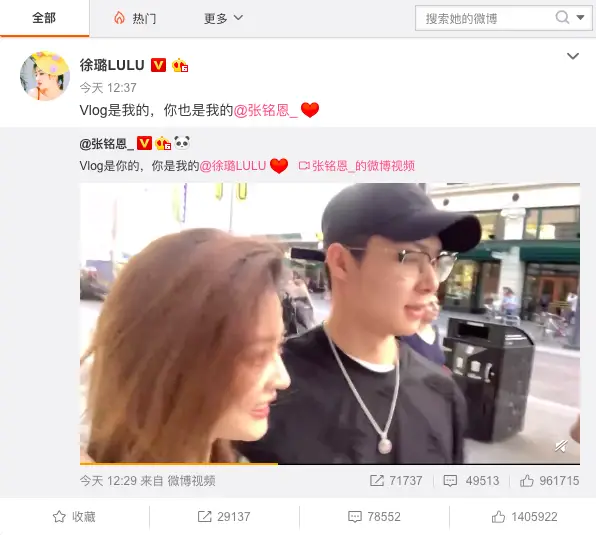 Even though the vlog is only 1:23 long, it shows the two doing normal couple things. They are in the car singing Jay Chou's (周杰倫) "Love Confession" (告白氣球), shopping together, traveling overseas, and more.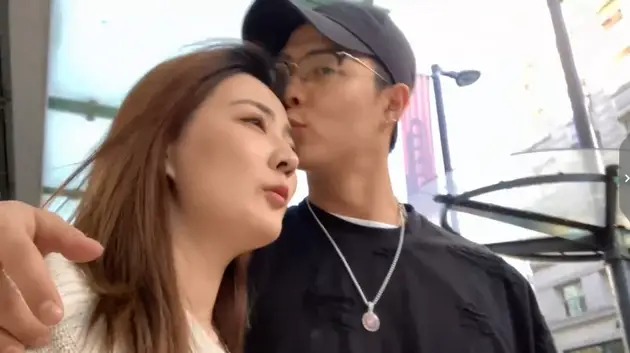 You can watch the vlog here: http://t.cn/AiTvMYvY?m=4402267324844299&u=2012292141
Credit: ETtoday.net, Sina Ent, Lulu Xu IG, Zhang Mingen Weibo, Mango TV Weibo