After going public with their relationship in February 2018, Han Geng (韩庚) and Celina Jade (盧靖姍) got married on December 31 in New Zealand. Marriage rumors started circulating in June when Hong Kong media discovered their application for marriage registration. The two never confirmed the rumors, but director Roy Chow, had confirmed it at the time when he revealed he had already received their wedding invitation.
Former Super Junior Member, Kim Kibum, Congratulates Han Geng on Getting Married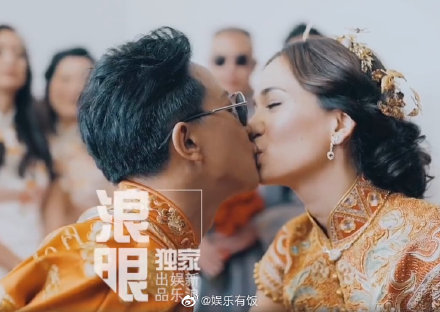 Han Geng and Kim Heechul are Attending the 2019 COSMO Glam Night
A few days ago, Sina Entertainment reported an insider had revealed Han Geng and Celina Jade were getting married in New Zealand on December 31. It wasn't confirmed until Sina released pictures of their wedding. Han Geng and Celina Jade followed up with a picture from their wedding on December 31 with this picture. The caption reads: "Hello, my lover."
Han Geng and Celina Jade Have Registered Marriage in Hong Kong
Sina Entertainment also released an exclusive preview of Celina Jade and Han Geng going through the Chinese tea ceremony. Han Geng even tries to mimic a foreigner's accent while speaking Mandarin to his father-in-law.
Tea ceremony preview: http://t.cn/AiFHYsNJ
Their wedding pictures and invitation were also released by Sina Entertainment. There were also some words written on the invitation, saying:
"Just like the dark night won't be complete without stars or the moon, without you, there is no way my life would be complete."