Chinese artist, Han Geng (韩庚), who got his start as a K-Pop idol as a member of Super Junior, announced he was dating Hong Kong actress, Celina Jade (盧靖姍), on his 34th birthday last year. It all started when Han Geng wrote a Weibo post on February 9, tagging Celina Jade, with the caption: "Hello, 34 years old. Hello, my girl @CelinaJade. Celina Jade responded to the post with a similar caption: "Hello, my boy @HanGeng."
Han Geng and Celina Jade Held Traditional Wedding in New Zealand
Former Super Junior Member, Kim Kibum, Congratulates Han Geng on Getting Married

Han Geng and Kim Heechul are Attending the 2019 COSMO Glam Night
According to Apple Daily, they discovered an application for marriage registration in Hong Kong under Han Geng and Celina Jade's names today. The marriage certificate was dated June 17th. Even though the occupation is not listed for either of them, the birthdate listed under the male is the same as Han Geng's, February 9, 1984, while the female's is listed as June 10, 1985, same as Celina Jade's. As for the address, they reported Chaoyang District in Beijing. Celina Jade had posted on February 7, 2018, "Beijing, my new home."
Qin Lan, Wu Jinyan, and Nie Yuan Reunite in New Series, "The Heritage"
When Sina Ent contacted them for a response, their team members said, "If there is good news, they will share it at once with everyone."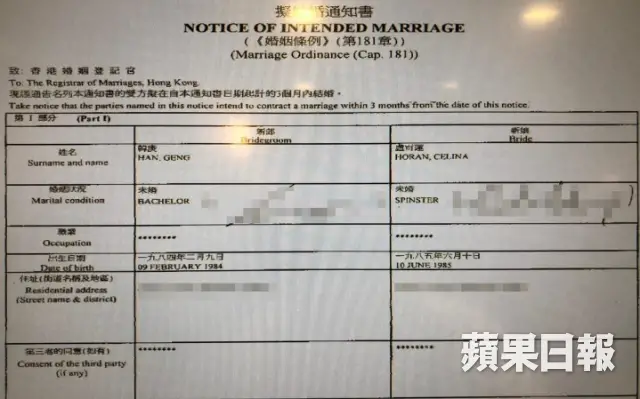 The marriage rumors already started on June 14th, when it was discovered Celina Jade had originally posted a picture with a ring on her ring finger. She later edited the post with the same picture, but with the ring photoshopped away. In February of this year, Celina Jade celebrated Han Geng's birthday with his mom present as well.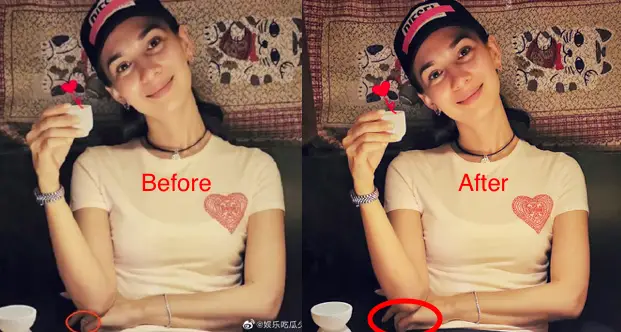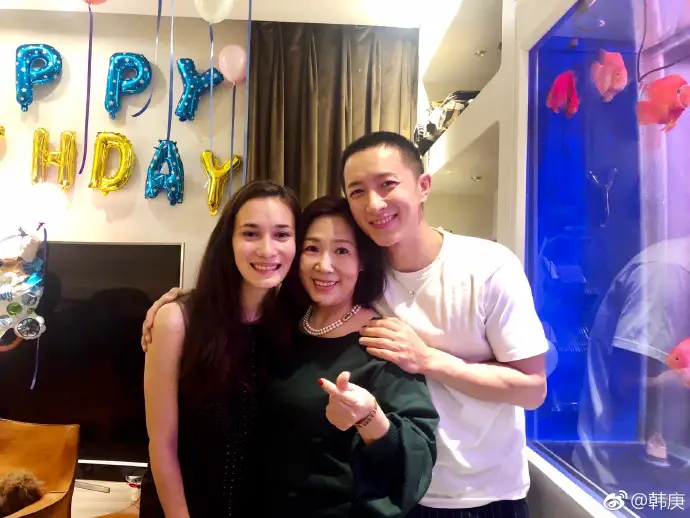 Director, Roy Chow (周顯揚), who worked with Han Geng on the film, "Knockout", revealed to Apple Daily today, "I am happy for them. I already received their wedding invitation earlier on. I will be attending their wedding. Han Geng and I are good brothers. I witnessed them dating. When they were dating, Celina would often visit us. Seeing him get married, I am very happy for my brother."
How They Met
Celina Jade, legally known as Celina Jade Horan, was born to a Chinese mother and an American father. The 34 year old actress can speak fluent English, Cantonese, and Mandarin, due to her upbringing. Celina Jade got her big break in 2017's Chinese blockbuster hit, "Wolf Warrior 2" (戰狼II), starring Wu Jing (吳京), as Dr. Rachel Smith in the highest grossing Chinese movie ever. Before landing a role in "Wolf Warrior 2, she also guest starred in a few episodes of American TV show, "Arrow", as Shado. With the success of "Wolf Warrior 2," she shifted her sights from Hollywood to Chollywood.
The two were actually presenters at the 2017 Golden Rooster Awards (金雞獎). It's reported Celina Jade piqued an interest in Han Geng when he helped her down the stairs when they were presenting. She was so touched by the gesture, she tagged him on Weibo saying: "Thank you (formal use of you) for helping me down the stairs. Didn't get a chance to say bye bye before. Very happy to meet you! Good show! Looking forward to hearing you sing your theme song."

Credit: Apple Daily HK, hk.on.cc, Weibo (1, 2, 3, 4 ,5, 6, 7)