In this season of "The Rap of China" (中国新说唱) there were quite a few Taiwanese contestants who joined the competition. One of the more well known contestants is Andrew Chou (周立銘), also known as Machi DiDi (麻吉弟弟). Seeing him as a contestant is quite shocking because in an interview from last September, the former child rapper said he wouldn't join "The Rap of China" and threw shade at Kris Wu's freestyle skills. In addition to that, he said he wouldn't pursue rap anymore and that he wanted to focus on EDM (Electronic Dance Music). Well, Machi DiDi might have a lot of time to take up EDM again as he was eliminated by G.E.M. in the second episode.
Fans Upset at G.E.M. for Allegedly Having Fan Club Fees Deposited to Her Boyfriend's Account
Machi DiDi Rejects "Rap of China", Disses Kris Wu's Freestyle Skills
"The Rap of China" Director Responds to G.E.M.'s Screen Time in First Episode
Once this week's episode aired, the topic of "G.E.M. Eliminates Machi DiDi" started trending on Weibo. Machi DiDi debuted at 12 years old as a rapper in the Taiwanese group, "Machi" and was known for being able to rap fast. Later on, he returned to the US to become a DJ until he came back to Taiwan in 2015 to combat the music industry again.
Air Wins Season 2 of "Rap of China"
Once he meets G.E.M., he addresses her by her Chinese name, 鄧紫棋 (Deng Ziqi), and introduces himself as "Machi DiDi." After he's done with his 30 second rap, G.E.M. awkwardly says thank you and says, "Aiya, I don't know what to do." Machi DiDi responds, "Really? I think choosing is very simple." G.E.M. then says, "I only have 30 necklaces." In the backstage interview, Machi DiDi admits he can do better, but felt his performance was good enough. G.E.M. finally makes her decision and says, "I…I..Sorry. Sorry. Sorry." Another contestant is shown critiquing Machi DiDi saying, "He really hasn't improved much in these 20 years. Hearing his song now, it still sounds the same, shouldn't give him a necklace." Another contestants says, "Just one sentence. "Ziqi made the right choice."
Al Rocco's Model Ex-Girlfriend, Naomi, in the Hospital After Slitting Wrists
Watch the performance here: http://t.cn/AipwE3lC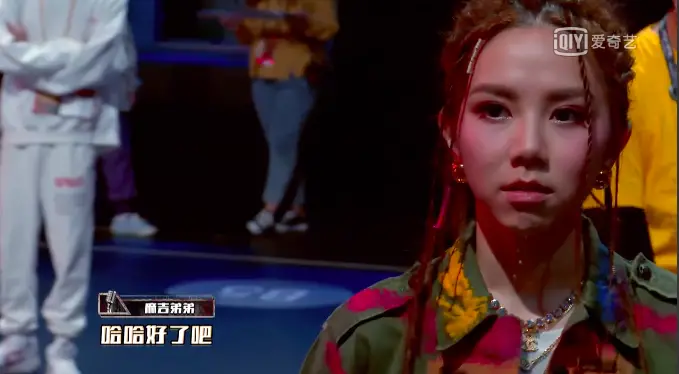 Edison Chen Throwing Shade at Kris Wu and "Rap of China" Once Again
After the elimination, Machi DiDi tries to butter up G.E.M. and refers to her as "Sister Ziqi". He asks her, "Right now, I want to listen to your reason because you didn't explain yourself before. At the very least, you can give me your reasoning. Is that okay?" G.E.M. starts to explain, but pauses. Then she says, "Aiya, is this place that stressful? But I want to see if I have any regrets about before. Let me handle this situation first." Machi DiDi responds, "I am the one you regret, is it not?" G.E.M. is speechless and squats down. Machi DiDi says to her, "Please" a few times, putting her on the spot. The other contestants are a bit annoyed at his antics with one person saying, "Maybe he was strong before, right now he hasn't improved. Not choosing you is very normal." One female contestant responds, "It's wasting everyone's time. There are others who didn't pass, but they aren't trying to fight for a spot." The video zooms back to Machi DiDi and G.E.M. with G.E.M telling him to let her finish reviewing.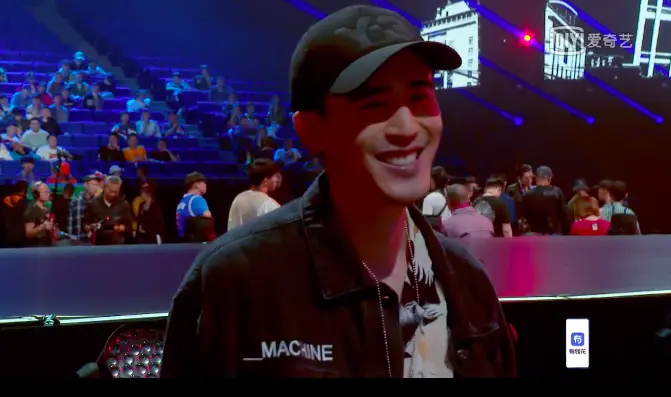 In the backstage interview, G.E.M. reveals, "Actually, there was something of Machi DiDi's that I didn't dare say out loud before. When I was listening to it at the time, I was thinking….I don't know where you can improve."
G.E.M. Shares New Song and Thong in Latest Episode of "Rap of China"
Watch G.E.M.'s explanation for not choosing Machi DiDi: http://t.cn/AipARJ30
After the episode aired, Machi DiDi made a post about his performance, saying:
"First, I really admire and like this type of show, being able to give rap a platform. I also want to think the show's team members for humbly inviting me three times in the past two years. This year, I originally wanted to present a new me to face all of you who have been looking forward to it. After all, no one wants to live in the past. As for the director's request not to sing what the program wants to hear, I had to coordinate some…umm…I understand. This is not a competition, but a show. I've sung "噼里啪啦" to boredom. You guys are probably sick of hearing it too. I can understand Deng Ziqi and a lot of other people who are suitable for a stage like this.
Thankful for the fans who have been supporting me all along. Let's treat this as the 12 year old Machi DiDi bringing you guys back to your childhood. From here on out, please continue to look forward to the current Machi DiDi. It's not that I don't have new works. I hope to have your support and praise. I will work hard for the people I admire to create a new set of memories!"
Netizens left a range of comments: "So you intentionally sang that bad.", It's true, no one wants to keep singing the same song that got them famous.", "Really amazing, no one can beat you at ruining "唱劈裏啪啦". "Acutually, not everyone is suitable for this type of competition. Just be yourself."
Was Machi DiDi really faking it? Watch him progress the speed of his song "噼里啪啦."
Credit: ETtoday.net, iQiyi