A few days ago, Edison Chen (陳冠希), infamous for speaking his mind, went to express his thoughts once again on the "The Rap of China" (中国新说唱) through his Weibo account.  Never one to be subtle, Edison posted this, which many believe to be throwing shade at "Rap of China" and specifically, Kris Wu (吴亦凡).
Kris Wu's Alleged Girlfriend Exposed
G.E.M. Eliminates Machi DiDi in Episode 2 of "The Rap of China"
Kris Wu Reveals He's Lonely and Wants to Find a Partner on "Back to Field"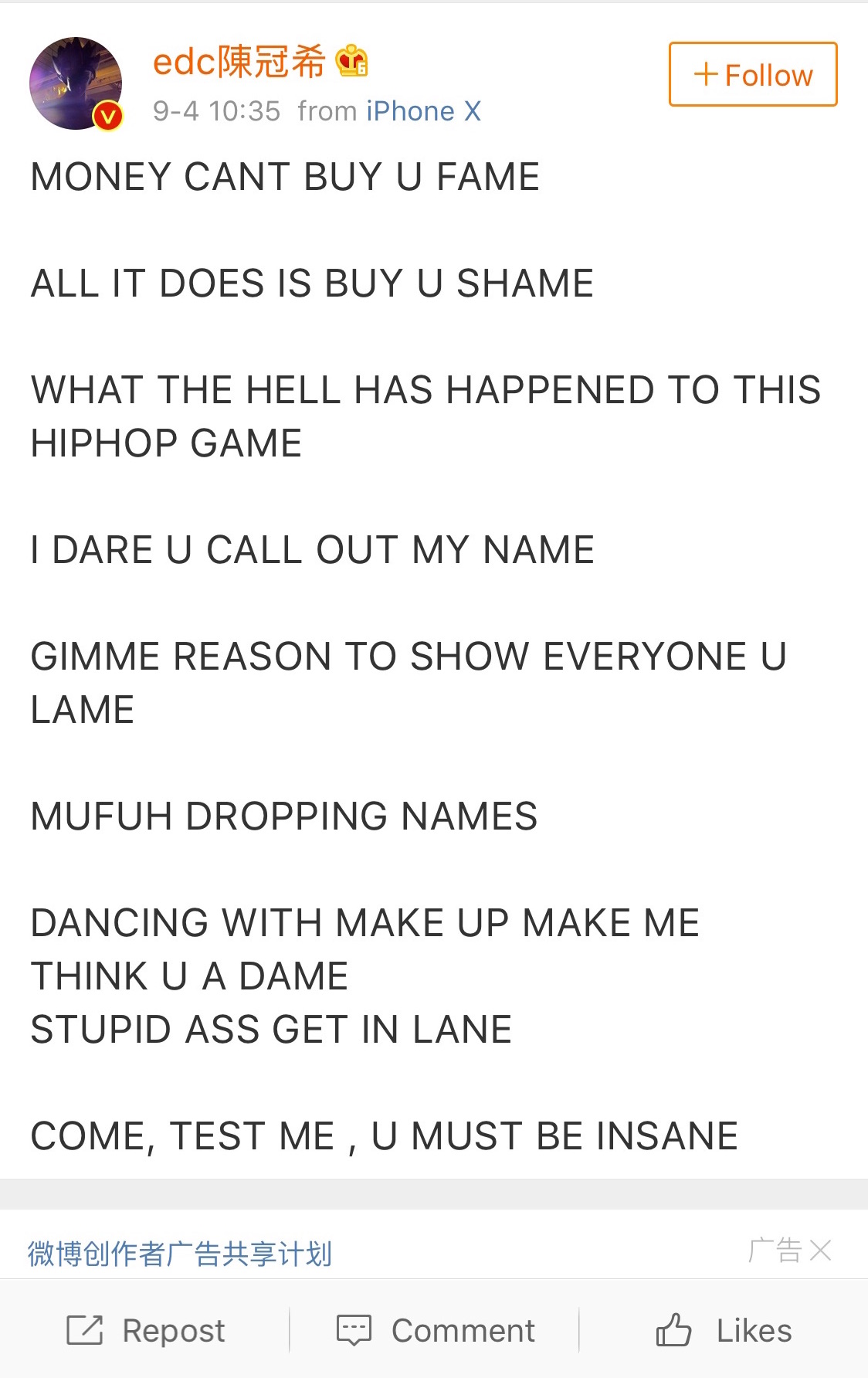 Did Edison Chen and Kris Wu Squash Their Beef?
This post attracted the attention of "Rap of China" director, Che Che (車澈) and prompted him to clap back with some words of his own on Weibo.  Che Che starts off the post without directing towards anyone, "Have we ever expressed interest in you before?  You used your own people to come out with a script saying you might be going on the show [Rap of China].  It  made the fans say we're jealous of your popularity.  Dude, what popularity do you have? Always ranting about this person and that person not being good.  If you're so good, create your own show.  [We] aren't using you, don't want to use you, won't use you, will never use you."
Scooter Braun Squashes Beef with Kris Wu Over iTunes Controversy, Edison Chen Adds His Two Cents
Back in May, Edison had already started beef with another Rap of China coach and Taiwanese rapper, MC Hot Dog (熱狗).  In one of MC Hot Dog's post regarding the show, Edison posted "Rappers???? hahahahah u mean a stage full of bitches/not rappers right???"  In response to this, Che Che said, "With regards to Mr. Chen, we've never been in contact, though we have tried to contact him before.  We never thought about inviting him on the show and won't be considering him in the future either. "  While fans praised Director Che for the way he treated this matter, many fans sympathized Kris for being dragged into the drama. 
Machi DiDi Rejects "Rap of China", Disses Kris Wu's Freestyle Skills
One particular netizen upset at Edison's remarks left a comment and said he was no better than Kris.  In Edison's passive aggressive clap back, he goes, "I agree.  He's better at posing and telling lies than me. "  
Will this drama ever end? Should they invite Edison on the show as a one time guest?  They can have Edison and Kris in a freestyle battle.  Ratings would skyrocket.  Think about it, Director Che!  
Credit: ETtoday.net, Edison Chen Weibo, hk.on.cc