Taiwanese actress, Shu Qi (舒淇), was recently featured in a documentary, "My Legacy" (時代我), produced by Tencent News. The documentary touches upon Shu Qi's 24 year career, but also her life growing up. Shu Qi gets candid with stories about her troubled childhood and how her relationship with her parents molded her to become the person she is today.
Some Netizens are Disappointed the Chen Kun and Ni Ni Dating Rumors aren't True
When referring to the pureness in her heart as a 44 year old woman, Shu Qi frankly attributed it to her not having a childhood. Shu Qi would observe her parents' reactions and if she felt that her father wasn't in a good mood that day, she would stay further away from him or else she would be yelled at. She also revealed how she would be so scared and hide when she heard her father coming home just from the sound of his scooter and hearing the steel door open when he entered. She attributed these experiences and the environment she grew up in that made her become an especially sensitive person.
"Shanghai Fortress" Director Under Fire for Throwing Luhan Under the Bus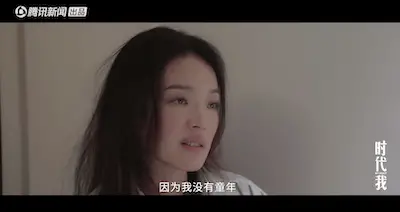 At one part of the documentary, Shu Qi reveals she has been writing her own script since 2011 that she drew from her own experiences as a teenager. This led to her revelation that she ran away when she was around 15 or 16. She revealed, "I left for half a year and didn't have money to pay rent anymore. I went back to my mother and said to her, 'Eh, I don't have money for rent. Give me $5,000 NTD. I will pay you back once I have money."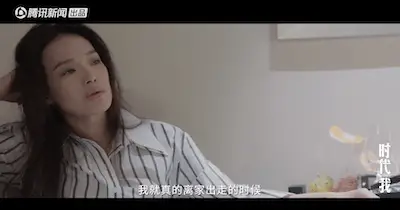 When Shu Qi saw her mother again six months later, she recounted getting into either a car accident or some other traumatic event. She didn't feel her mother feeling especially worried about her. Shu Qi expressed, "She has always scolded me. My collarbone was injured and had some other injuries. I was thinking to myself I'm having it tough. Why do you come here and still yell at me?" Based on Shu Qi's social media updates, it seems she has resolved her issues with her mother.
Shu Qi left Taiwan for Hong Kong when she was 17. She recounted when she started working in Hong Kong, she had to arm herself to protect herself from being bullied. So she always appeared very carefree. Shu Qi also revealed that she might have also offended some people, which led her to getting the nickname, "Da xiao jie" (大小姐), which can mean "Miss Thing", or "diva".
In 2005, she suffered from depression while filming the movie, "Three Times" (最好的時光). She couldn't sleep even after drinking and resorting to sleeping pills. She attributed it to the transition from different film sets each time and having to familiarize herself with the cast in order to fully immerse herself into the character. She also felt some psychological shadows from filming "The Assassin" (刺客聶隱娘) because she felt it was too real. Eventually, she overcame all her hurdles and ended up becoming a very revered global icon and even found love after marrying her husband, Stephen Fung, in 2006.