Luhan's (鹿晗) new movie, "Shanghai Fortress" (上海堡垒) opened this month with a lot of hype beforehand due to the stellar cast. However, after the movie was in theaters, the word of mouth and box office results didn't live up to the hype. The The ratings and box office performance had a sharp drop on Chinese movie sites after the first week of viewing. From then on, the ratings kept on decreasing. The director, Teng Huatao (滕华涛), recently made a remark about the disappointing results of the movie in an interview that has gotten Luhan fans and netizens furious.
Luhan Leaves Well Wishes for Same Fan He Encouraged Four Years Ago
On Chinese film and tv review site, Douban, the movie ratings are currently at 3.2 out of 10 stars. When asked about the movie in a recent interview, Teng Huatao said he had no comment on Luhan's acting skills. However, he also said this, "But I overlooked the difference in actor types. I used Luhan wrongly in a role that wasn't suitable for him."
Netizen Finally Gives Up Tracking When Luhan and Guan Xiaotong Will Break Up
Shu Qi Recounts Troubled Childhood that Led Her to Run Away
Teng Huatao also pointed out Luhan's styling in the movie might have also contributed to the poor ratings. However, he also reiterated he wasn't blaming Luhan and that he just didn't consider whether the role was suitable for an idol like Luhan to portray. He also clarified that Luhan's salary for this movie wasn't high, shooting down rumors that he had accepted the role based on his high paycheck. Aside from miscasting Luhan as a commander in the role, many netizens also questioned the pairing of Luhan with Shu Qi (舒淇) as a couple in the movie. Luhan is 29 this year, while Shu Qi is 43.
Guan Xiaotong Side-Eyes Director When He Teases Luhan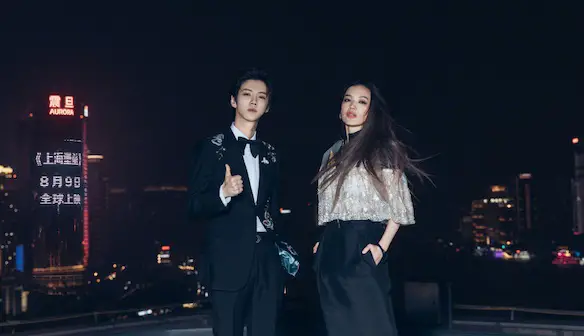 Luhan Responds to Criticisms about His Appearance in Series, "Cross Fire"
Once Teng Huatao's remarks about Luhan were shared, many netizens felt it was wrong of him to throw Luhan under the bus for the movie's failure. They left comments such as, "This really doesn't have anything to do with the actor. It's your movie's logic and worldviews that are the problems. Don't have your actors take the rap for it.", "There is also an issue with script, okay?", "Blaming the actor, what's wrong with you?". There were also comments supporting the director saying, "Luhan is really like this, doesn't have much acting skills. The director chose the wrong person."
Kris Wu, Luhan, and Huang Zitao Reminisce about Their Days As Trainees on "CHUANG 2020"
Watch the trailer below:
Credit: ETtoday.net, hk01.com, Weibo (1, 2)