Luhan (鹿晗) and Guan Xiaotong (关晓彤) have been dating since October 2017. Because of Luhan's popularity as an international idol, his relationship with Guan Xiaotong was met with a lot of opposition. Despite break up rumors and speculations, the couple is going strong and they always dedicate birthday posts to each other. However, one particular netizen was so upset about their relationship, they repurposed their Weibo account to track when Luhan and Guao Xiaotong will break up.
Guan Xiaotong Side-Eyes Director When He Teases Luhan
"Shanghai Fortress" Director Under Fire for Throwing Luhan Under the Bus
This person's Weibo account name is "Did Luhan and Guan Xiaotong break up? bot" (鹿晗关晓彤分手了吗bot). Since Luhan and Guan Xiaotong revealed their relationship on October 8, 2017, this person has clocked in each day to track when they will break up. They started on October 8, 2017 and will post each day in the following format: "Did Luhan and Guan Xiaotong break up?", the # of days since they started tracking, and the word, "soon".
Netizens Mistake "CHUANG 2020" Trainee, Sun Ruyun, for Luhan's Girlfriend, Guan Xiaotong

Netizens Body Shame Guan Xiaotong Over a Top She Wore at Milan Fashion Week
This person never missed a day and sometimes would clock in multiple times. However, they decided to stop clocking in after July 10. Their countdown lasted 1007 days, from October 08, 2017 to July 10, 2020. Shortly after posting their latest post, this person announced their decision to stop clocking in. The post read:
Luhan Celebrates Girlfriend Guan Xiaotong's Birthday

Guan Xiaotong Unfazed by Netizens' Criticism on Her Bare Face and Dark Circles
"After careful consideration, I decided to stop clocking in starting tomorrow.

Sorry.

This sorry isn't just for you, it's also for the people who once insulted and cursed at me, even more so for the people involved.

It's almost three years. I actually let go a while ago, just that…not important anymore. I also hope you guys let go. What else is more important than living in the moment, living your own life well?

Bless you guys, Bless everyone."
Luhan Leaves Well Wishes for Same Fan He Encouraged Four Years Ago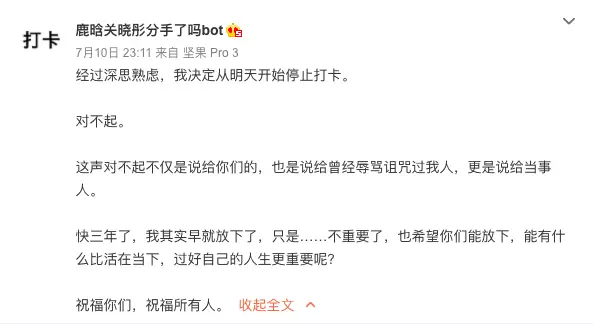 Kris Wu, Luhan, and Huang Zitao Reminisce about Their Days As Trainees on "CHUANG 2020"
Unfortunately, there is still a superchat topic with the name, "Did Luhan and Guan Xiaotong break up today?". It's still active with over 5500 posts and over 4500 members.
Luhan Responds to Criticisms about His Appearance in Series, "Cross Fire"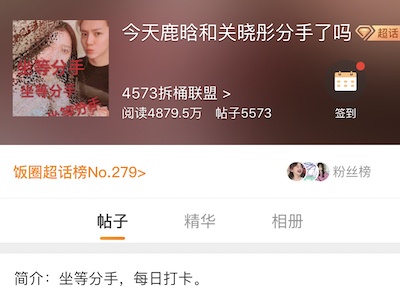 Luhan Sacrificed His Health while Filming "Cross Fire"
Luhan and Guao Xiaotong were trending at first place on July 14 when it was discovered the curtains in the background of their separate videos were the same. Netizens started speculating whether the couple was living together. However, some netizens say they were probably staying at the same hotel either together or on separate occasions.
Kitty Zhang Shows Support for Luhan After Former Manager Opposed Him Revealing His Relationship with Guan Xiaotong