Get your tissues ready because Luhan (鹿晗) is going to make you tear up even if you're not his fan. Even though Luhan is a mega star, he's known to pamper his fans and interact with them when they show up to support him. Luhan has previously arranged transportation and food to send his fans home on multiple occasions. However, what was especially touching was when Luhan left well wishes for the same fan he encouraged four years ago.
Netizen Finally Gives Up Tracking When Luhan and Guan Xiaotong Will Break Up
Back in 2015, an Iraqi fan named, Baraa, left a message for Luhan on Weibo saying, "Hi Luhan! I am your Iraqi fan! I just want to tell you, you're the only person who can make me smile. Living here is too hard. Seeing people die is the most terrible thing, but having you in my life allows me to forget about all the pain. Thank you for appearing in my life. I will continue to support you in this lifetime."
Luhan Celebrates Girlfriend Guan Xiaotong's Birthday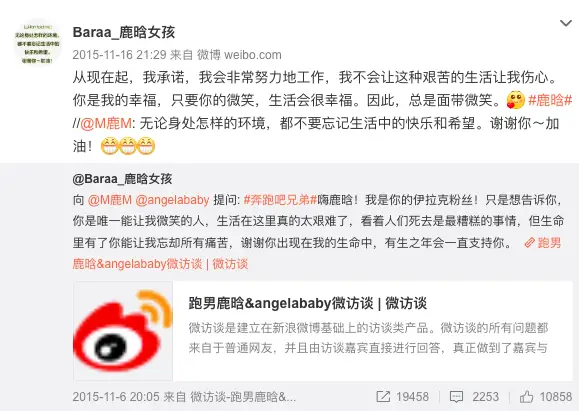 "Shanghai Fortress" Director Under Fire for Throwing Luhan Under the Bus
Luhan responded to Baraa saying, "No matter what environment you're in, don't forget the happiness and hope in life. Thank you! Add oil!" As it turns out, Baraa had suffered from a bomb raid on her way to school prior to her leaving that message for Luhan. Baraa continued her tradition this year and shared her wish list with Luhan.
Luhan Sacrificed His Health while Filming "Cross Fire"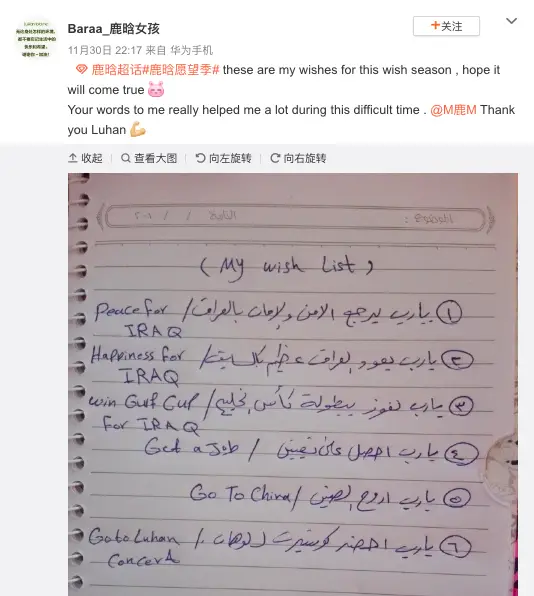 Luhan Thanks Huang Zitao and Kris Wu for Helping Him Conquer His Fear of Heights
He responded back to her saying, "wish you all the best". Fans discovered he purposely went offline to find Baraa's comment to leave his well wishes.
Kris Wu, Luhan, and Huang Zitao Reminisce about Their Days As Trainees on "CHUANG 2020"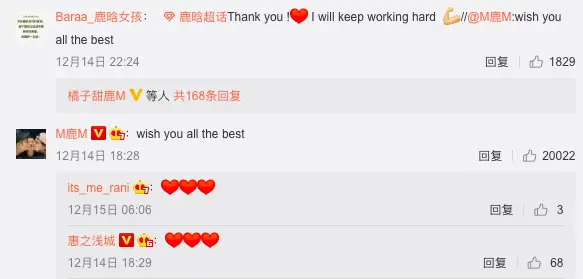 Netizens Mistake "CHUANG 2020" Trainee, Sun Ruyun, for Luhan's Girlfriend, Guan Xiaotong
Baraa made another post expressing her thoughts about how Luhan had encouraged her and gave her hope.