Chinese idol star and former member of K-Pop group EXO, Luhan, announced he was dating fellow Chinese actress, Guan Xiaotong last year.  Since the two went public with their relationship, pictures of the two together were mainly sourced from the public or from their friends.  The two rarely posted pictures of them on their own social media accounts.  
Netizen Finally Gives Up Tracking When Luhan and Guan Xiaotong Will Break Up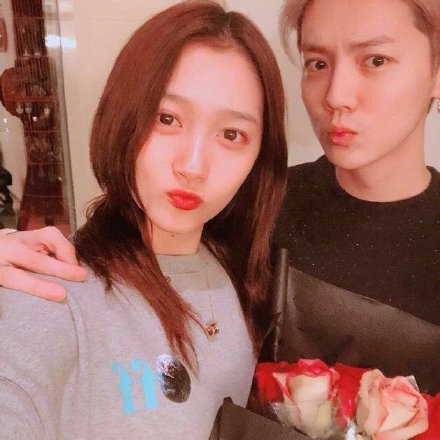 Guan Xiaotong Side-Eyes Director When He Teases Luhan
Today is Guan Xiaotong's 21st birthday and at the stroke of midnight, Luhan tagged her on Weibo to wish her a happy birthday.  The post contains a picture of her looking at a bowl of ramen at a restaurant from the "boyfriend angle."  Guan Xiaotong replies to his post with, "Eating the bowl of longevity ramen in front of me."  This move has shut down long time rumors of the two breaking up.
Guan Xiaotong Shuts Down Breakup Rumors with Luhan in Last Minute Birthday Posts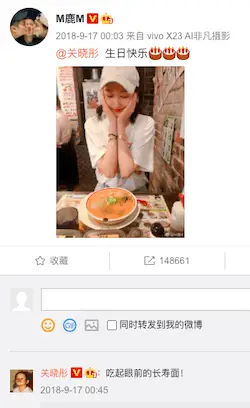 "Shanghai Fortress" Director Under Fire for Throwing Luhan Under the Bus
A lot of fans left birthday wishes and well wishing comments.  However, there are also comments about Guan Xiaotong's jewelry.  There are some naysayers pessimistic about the relationship and even asked, "When are they breaking up?"  Most comments were in support of the relationship and some even cheered on Luhan to support his upcoming concert tour.  
Netizens Mistake "CHUANG 2020" Trainee, Sun Ruyun, for Luhan's Girlfriend, Guan Xiaotong
Though there have been constant break up rumors, fans have frequently caught the two on dates.  The two were even seen flying to Japan together during Chinese Valentine's Day.  From the looks of the picture Luhan posted, it should have been taken from this Japan trip. 
Credit: World Journal, ETtoday.net, Luhan Weibo