Guan Xiaotong (关晓彤) is another Chinese celebrity who seems to get unwarranted criticism from netizens more often than not. One particular reason might be because she is Luhan's girlfriend. This time netizens were debating about her bare face and dark circles when photos from her recent advertisement were circulated online.
Guan Xiaotong Doesn't Want to be Labeled as "Big and Robust" Anymore
Guan Xiaotong Had an Unfortunate Fashion Faux Pas on the Red Carpet
The 22 year old was being criticized for her appearance in this set of pictures, which seem to be unedited. Netizens were quick to judge her saying, "This kind of an advertisement is not convincing.", "Feels like her essence, spirit, and energy are lacking.", "Looks like a zombie.", "The photoshop artist that produced these photos violated his professional ethics, right? Respect the artist.". There were also netizens who left comments supporting Guan Xiaotong saying, "Even though there is no beauty in this set of pictures, it's still not bad, very pretty.", "You must rest well, take care of yourself, don't overwork, feel bad for Xiaotong.", "Even when she's not her best, she can still knock down a whole bunch of people, okay?"
Netizens Mistake "CHUANG 2020" Trainee, Sun Ruyun, for Luhan's Girlfriend, Guan Xiaotong
Due to the backlash, Guan Xiaotong's studio issued a statement explaining, "Really sorry for making those who love and care about Xiaotong worry! This advertisement was hoping to achieve an extremely natural effect, which is why a bare face was used as the basis for this look. This would let us get closer to achieving a "natural" effect. This unedited picture below was taken from the monitor by the staff members that day. Once again, apologies for taking up everyone's attention in this manner."
Guan Xiaotong Side-Eyes Director When He Teases Luhan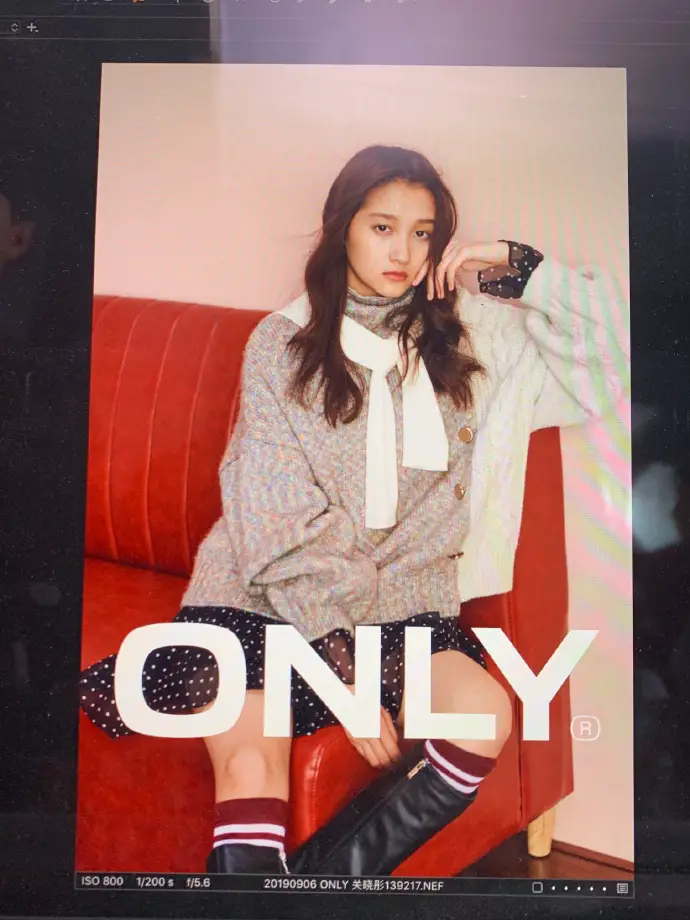 Guan Xiaotong Treats Leo Wu Lei Like a Sister
Netizens still seemed displeased with the studio's explanation. They left comments on the post saying, "This is the first time I've heard of using a complete bare face to film an advertisement.", "It seems like no lighting was used at all. What does this have to do with being bare faced?", "What kind of a sh*tty studio did Guan Xiaotong set up, posted such a sh*tty statement. Find a professional team!"
Netizens Body Shame Guan Xiaotong Over a Top She Wore at Milan Fashion Week
Guan Xiaotong didn't seem bothered about the comments. She posted a picture with drawn on black marks to mimic dark circles being photoshopped on Oasis with the following comment: "My dark circles have gotten darker from staying up on Double 11 (Single's Day) to buy things." The caption on the picture says, "Reposting these dark circles will allow you to feel good luck."
Luhan Celebrates Girlfriend Guan Xiaotong's Birthday
Chinese Netizens Rank the Most and Least Favorable Female Chinese Celebrities
After seeing her post, netizens left comments saying, "Haha, you are too outstanding, your dark circles are also pretty.", "You are too cute.", "Good response".