Shawn Yue (余文樂), who was living in Taiwan for the past few months, recently flew to Macau to prepare filming in mainland China. After finishing quarantine, it was reported Shawn Yue and his entourage were shopping at an Hermès store in Macau. A netizen claims she had an encounter with Shawn Yue and his assistant that left an unpleasant experience. She vowed to never support Shawn Yue and his clothing brand, MADNESS, anymore because of this incident.
Shawn Yue and Wong Cho Lam Announce Their Wives' Second Pregnancies on Father's Day
Shawn Yue Admits He's Not Good at Changing Diapers, Shawn Yue: I am in Charge of Entertainment
This netizen revealed a chat conversation on IG story that started out saying she will no longer be buying anything from Shawn Yue and that she finally came around. She and her father recently bumped into Shawn Yue at an Hermès store at a Macau hotel. Her father was really excited and asked Shawn Yue for a picture, which he agreed to, but was rejected by Shawn Yue's assistant.
Shawn Yue's Clothing Brand, MADNESS, Accused of Supporting Hong Kong Independence
The netizen says she heard from the sales assistant that his assistant was probably mad because Shawn Yue and his entourage of four were asked to line up at the door, but this netizen and her father didn't have to and just went in directly. Afterwards, this netizen claims the assistant said, "We've never had to line up before." The netizen continued to recount to herself, "Why didn't you say so earlier? How would the security guard know you? How would the sales assistant recognize you? Everyone is wearing a mask. We wouldn't even recognize you if we passed by. Also, we had already made a reservation ahead of time to pick up our bags, not shopping around."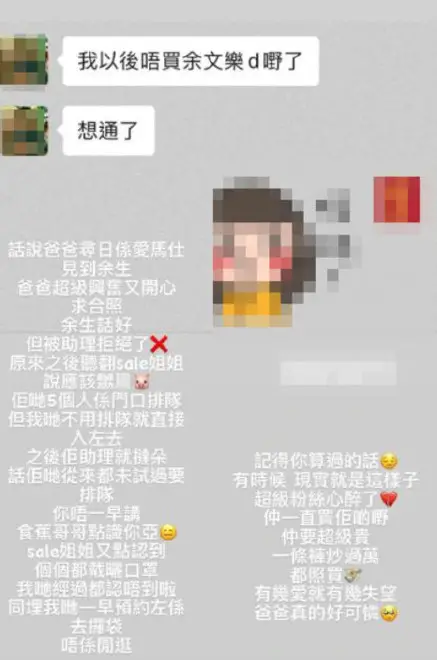 As a self-proclaimed super fan, this netizen said her heart was shattered. She has been buying clothing from Shawn Yue's brand, MADNESS, all along, which she said is "super expensive". She said, "A pair of pants was selling for over 10,000 HKD. I still bought it. However much you love is how much you'll be disappointed. Dad is so sad."
Shawn Yue's assistant, Zuki, addressed the incident and clarified Shawn Yue and his team were following the rules just like everyone and denied not wanting to line up. From her professional point of view and keeping time in check, she went up to the security guard and asked how long they needed to wait because if it would be a long wait, they had to go take care of some other things first. Zuki goes on to say that Shawn Yue was wearing his mask all along and was chatting happily. He wasn't impatient about having to line up and said the hotel they were staying at could provide the security footage to prove this.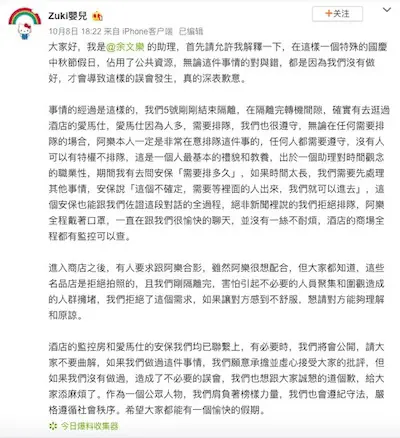 As for the rejection for the picture taking, she explained, "Even though Shawn really wanted to accommodate, but everyone knows these type of luxury stores don't allow picture taking. We just finished quarantining too. We were afraid of attracting unnecessary crowds and congestion of onlookers, so we rejected this request. If the other party feels uncomfortable, I kindly ask them to understand and to forgive."
Credit: hk01, Weibo (1), Shawn Yue IG