"Youth With You 3" (青春有你 3) trainee, Liang Sen (梁森), received a lot of attention on the first two episodes for his shiny bald head and charismatic personality. Everyone seemed intimidated by his presence when he made his entrance due to his tall stature and demeanor. However, once he performed, he floored everyone, including the mentors, which earned him an A.
Company Denies Rumors Regarding "Youth With You 3" Trainee, Liang Sen, Being a Repeated Abuser and Bullying Fellow Trainee
A day after the show, Liang Sen was trending for his before pictures with hair. Netizens showed pictures of Liang Sen when he had hair and some pictures that showed up were old pictures of him and EXO's Sehun. What is the affinity between Liang Sen and Sehun?
EXO's Sehun Cried Watching C-Drama, "Nothing But Thirty"
"Youth With You 3" Trainee, Liang Sen, Shocks Lisa After She Sees Him and Then Mesmerizes Her After He Performs
Looking back at Liang Sen's Weibo, he has old posts and pictures with Sehun dating back to 2016. It turns out Liang Sen made his debut in the 2016 Chinese drama, "Dear Archimedes", which starred Sehun. While the drama never aired, it seems like the two were good friends.
In the 2016 post, Liang Sen tagged himself in Seoul, Korea and said, "This holiday was spent very happily today."
EXO's Sehun and Janice Wu Qian's Movie, "CATMAN", Finally Gets Release Date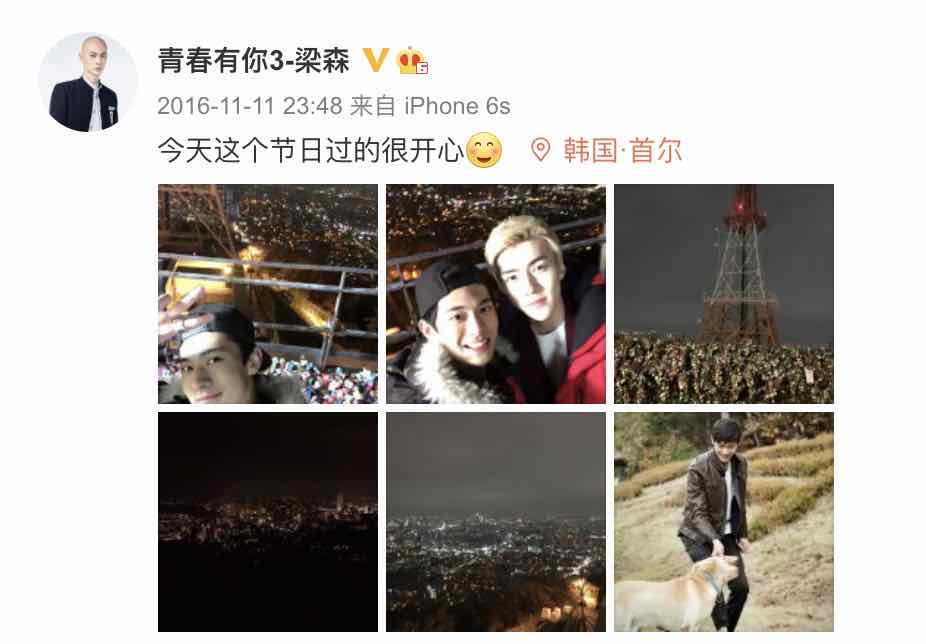 "Youth With You 3" Trainee, Liang Sen, in Tears as He Reveals Reason for Being Bald
In February 2017, Liang Sen wrote, "My first time watching a concert was given to gege (older brother). Gege is explosively handsome! It was also high at the scene! Haven't seen gege's hairstyle in a long time. He cut a new length." Liang Sen is born in 1997, while Sehun was born in 1994.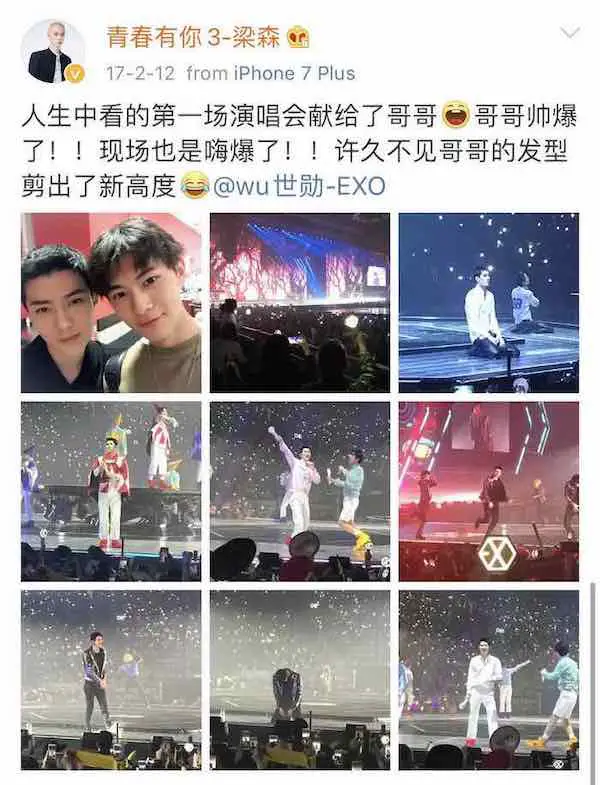 In April 2019, Liang Sen wished Sehun a happy birthday. He wrote, "Wishing my international good friend, gege, a happy birthday!"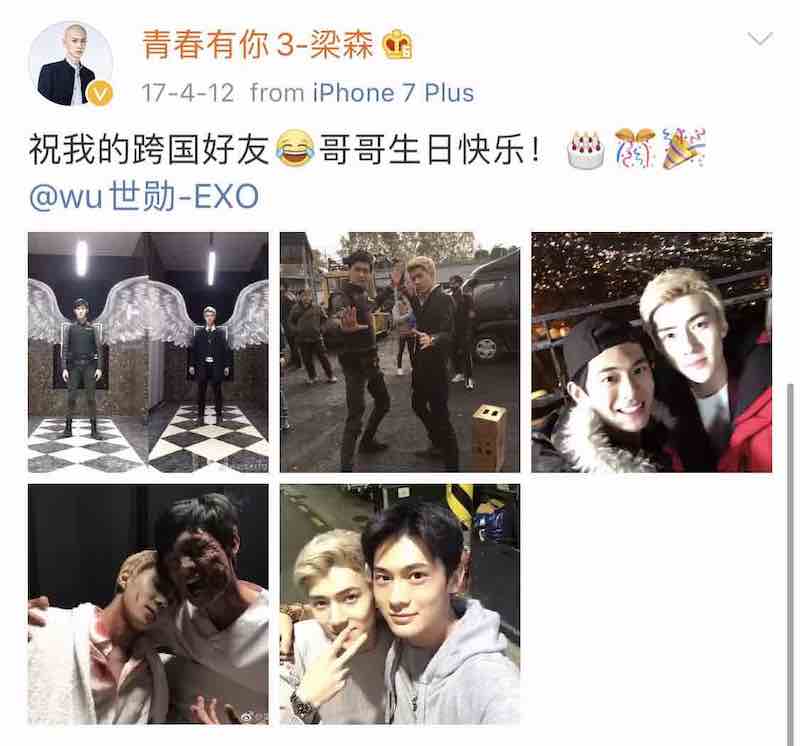 In October 2017, Liang Sen wrote, "Our halloween makeup is too weak! Look at mine! I want to throw up looking at myself. It took me an hour to shower. (First, bite off classmate, Oh Sehun, then we'll talk.)"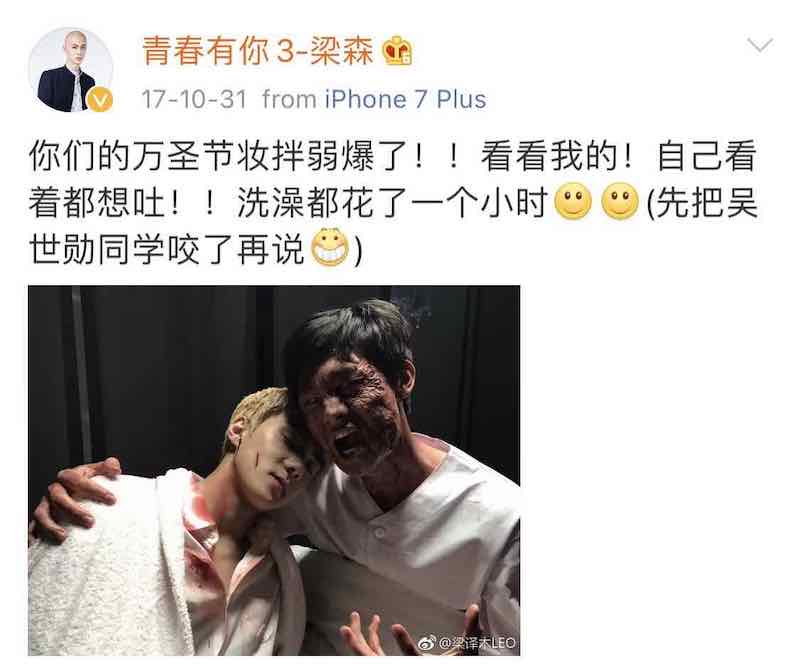 In April 2019, Liang Sen wished Sehun a happy birthday, "Happy birthday, gege!! Wishing you happily and safely doing the work you want to do! And not be impacted by the outside world! Thank you for taking care of me on Weibo all along. Love you!"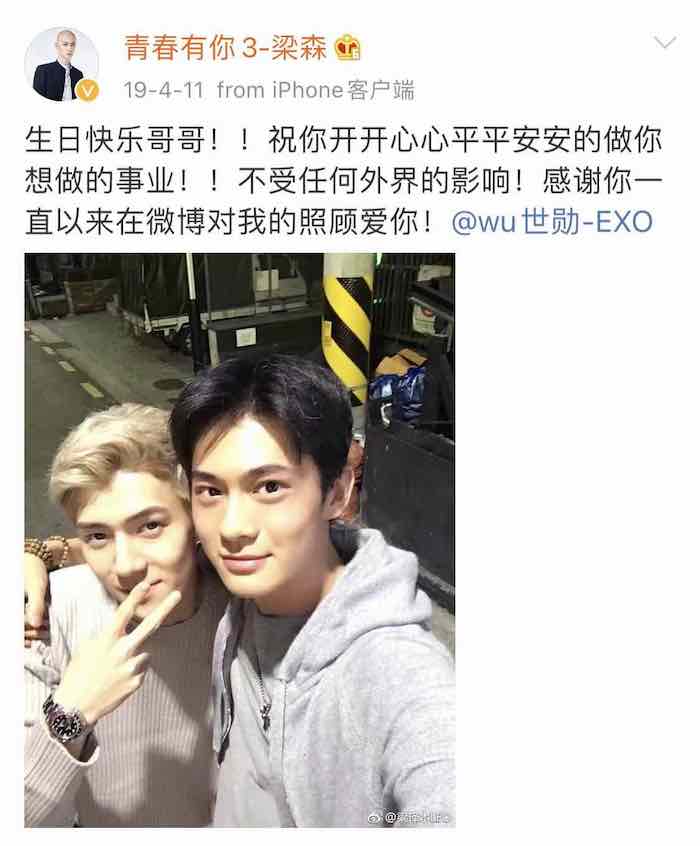 On July 2019, Liang Sen showed off a screenshot of what seems to be his conversation with Sehun about seeing him at the concert. He used Tencent's translator to translate his text: "I originally wanted to see your face at the concert." Liang Sen then showed a picture of what looks to be him sitting in the audience at an EXO concert with the caption: "This is fate. I just came to Korea for a day and I rushed to the concert." and tagged himself in Seoul.