Despite initial doubts about Youku's "Word of Honor" (山河令), it has been well received critically and high rated on multiple platforms. The leads, Zhang Zhehan (张哲瀚) and Simon Gong Jun (龚俊), have been getting praise for their acting skills. One of the most memorable scenes is of Simon Gong's character, "Wen Kexing", playing the xiao in the rain at night. Sohu Entertainment did an interview with the director of "Word of Honor", Li Hongyu (李宏宇), and he revealed after they completed that scene, Simon Gong refused to leave the scene and couldn't get out of character.
Zhang Zhehan and Simon Gong Jun Recall Their Initial Impressions After Learning They Were Going to be Co-Stars in "Word of Honor"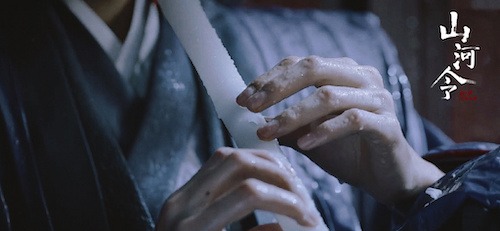 Simon Gong Jun and Reyi Liu Renyu Tackle "Most Adorable Height Difference" in "The Love Equations"
When Sohu asked if it took Simon Gong a long time to get out of that moment, Li Hongyu expressed, "Yes, because number 1, we combined real and fake rain together. Gong Jun was drenched in the rain all along to find that state of mind. I was situating the camera positions and he kept sitting over there. He actually got very deep. I remember that scene was filmed the next day. I filmed him by myself. The previous night, I filmed that scene with him and 'Zhou Zishu'. If we continued filming that scene, I was afraid he really wouldn't be able to take it. So I let it slow down a bit. I wanted to make him to emit feelings of being very helpless, very dismal, very bleak. He also understands that type of feeling. I also exchanged words with him. I told him I hope you won't cry heartily. Why get soaked in rain? It's to capture your tears and your gaze. I can experience that thing coming out."
Simon Gong Jun's Studio Denies Dating Rumors with Actress, Xu Muchan
Li Hongyu continued to reveal that Simon Gong couldn't get out of character immediately and was quite immersed into the role. After the scene was finished, he recounted they had to coax Simon Gong to leave. He revealed, "I said, 'There's no more. Gong Jun, we're done filming. Let's go.' We pulled him away, forced him to leave." As for the rain, Li Hongyu revealed it was a "gift from god" as it started raining when Simon Gong was crying alone. When "Gu Xiang" arrived, it stopped raining and turned into drizzle.
Simon Gong also revealed in a previous interview that the rain scene was most memorable for him. He explained, "At that time, 'Wen Kexing' just found out 'Zhou Zishu' didn't have much longer to live. I suddenly felt, my only soulmate in this world, my only light, will be gone. It happened to be raining heavily that day. I was feeling very cold in my heart. The pouring rain, combined with 'Wen Kexing's' mood at the time, it was really terrible. The source of light in life is suddenly shut off. Can you understand that type of feeling?"