Youku has struck gold with another BL novel adaptation, "Word of Honor" (山河令), based on priest's novel, "Tian Ya Ke" (天涯客). Many fans have labeled "Word of Honor" as "Guardian 2.0" (镇魂), which was also released by Youku in 2018, due to the not so subtle romantic notions between the two male leads. In addition to that, Youku's social media accounts have been very receptive to fans' requests for multi-language subs and even took suggestions on improvements. It also helps the admins are running Youku's social media accounts like meme accounts. The ratings on Douban are quite high too. The series started out with 8.1 stars and is now at 8.6 stars.
Simon Gong Jun's Studio Denies Dating Rumors with Actress, Xu Muchan
Simon Gong Jun and Reyi Liu Renyu Tackle "Most Adorable Height Difference" in "The Love Equations"
The two male leads, Zhang Zhehan (张哲瀚) and Simon Gong Jun (龚俊), also did a live stream on March 2. The host asked their first impressions of each other when they first learned they were going to be co-stars in "Word of Honor". Zhang Zhehan said, "I didn't know this person's existence before working together.", which elicited laughter from the both of them.
Zhang Zhehan and Simon Gong Jun Star in Drama Adaptation, "Tian Ya Ke", of BL Novel, "Faraway Wanderers"
Riley Wang is Not Getting "The Girl" in Rom-Com, "Everyone Wants To Meet You"
Zhang Zhehan explained Simon Gong entered the industry relatively late and didn't really film that much ancient dramas, while he was always filming at Hengdian and would frequently work with the same people. He elaborated further, saying, "Eh, Gong Jun? I didn't really know much because I seldom watch television series." As for his first impression, Zhang Zhehan looked to Simon Gong on when they first met. Simon Gong said it was when they were training in martial arts, while Zhang Zhehan insisted it was when they had dinner. Simon Gong doesn't remember whether they had dinner or was training in martial arts first, but Zhang Zhehan seems to think they had dinner first, which Simon Gong acquiesces. Zhang Zhehan continues telling the story that when he saw him that night, he said, "Wow, so tall, a handsome boy. Once you look at him, 'handsome guy'. No need to think when it comes to looks."
Simon Gong Jun Couldn't Get Out of Character After Filming Rain Scene in "Word of Honor"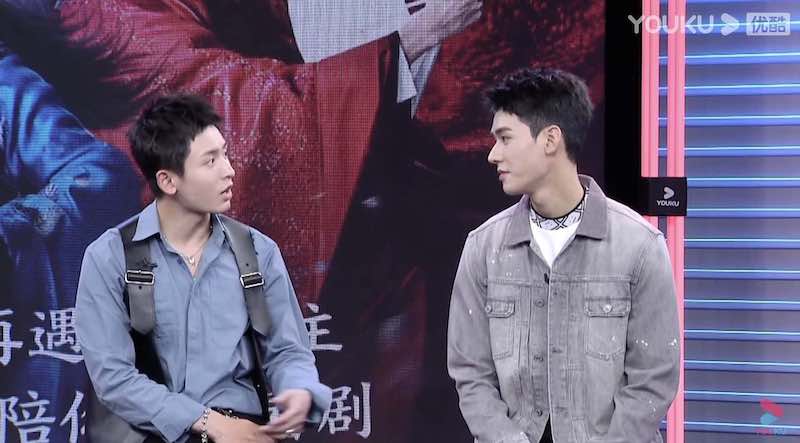 As for Simon Gong's turn, he said, "When I found out my partner was Zhang Zhehan, I did an online search and went to his Weibo. I had a question mark [looking at] his Weibo [thinking] why this person named his Weibo username with "fengzi" (疯子 lunatic)." Simon Gong said he never asked him why he used "lunatic", "but I can feel why he used it. This person does things with a very concentrated mind."
Simon Gong revealed Zhang Zhehan used to love playing basketball, but because of an injury, he uses the same enthusiasm he had to play golf. When Zhang Zhehan didn't have to film, he would play golf on schedule every morning. Simon Gong says he can feel Zhang Zhehan is very persistent in things he likes to do. Zhang Zhehan then asks him, "So you're saying I don't love filming?" Simon Gong says, "Just talking about your lifestyle." When the host asks Zhang Zhehan why he chose to use "fengzi" in his username, he says Simon Gong had analyzed him well and knows him very well. Zhang Zhehan explains he is very persistent and crazy when he does something.