Since Kenneth Ma (馬國明) and Roxanne Tong (湯洛雯) announced they were dating, they've been rumored to be getting married on several occasions. The couple have repeatedly denied the marriage rumors citing that if there is good news, they would definitely announce it. The marriage rumors were incited once again when Roxanne Tong bought a detached property close to 50 million HKD in her own name. The media claimed Roxanne Tong was buying it for her love nest with Kenneth Ma.
Feng Shui Master, Mak Ling Ling, Predicts Kenneth Ma is Likely to Have Children Before Marriage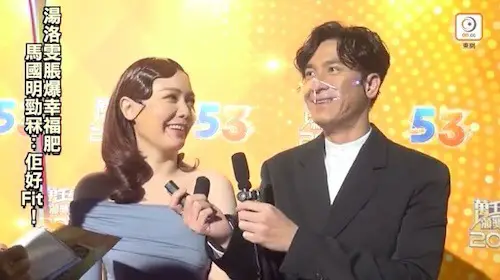 Kenneth Ma Hopes to Get Married Before 50, Rates Roxanne Tong Out of 100 Points
On the slew of marriage rumors, Roxanne Tong spoke with Oriental Daily News and said she definitely won't be getting married in the short term and shut down the August marriage rumors. Roxanne Tong explained, "We've only dated for a few months. Just treat us like regular people. Getting married after only dating for such a short period?" When the couple announced they were dating last June, they said they weren't dating that long.
Roxanne Tong Says She Will Marry Kenneth Ma On One Condition
Roxanne Tong said it's her own issues and not Kenneth Ma's fault. She explained, "I am someone who lacks a sense of security. I need a long time to communicate before deciding on major life decisions. I don't want to think about these things so soon. I have the least sense of security about my mortgage."
Roxanne Tong revealed she gave her family a lot of burden when she studied overseas. Now that she has the ability to make money, she wants to repay her parents by helping with the mortgage. Roxanne Tong says even though her family doesn't have any burden, she wants to help out as they spent a lot of money when she went abroad explaining her father wouldn't have had to work if it weren't for her. Roxanne Tong revealed her mortgage doesn't start until 5 years later, but she will have to spend 6 figures each month just on her mortgage.