During the start of the Lunar New Year, the media started reporting that Kenneth Ma (馬國明) and Roxanne Tong (湯洛雯) were getting married in August this year. However, Kenneth Ma immediately denied the rumors. Kenneth Ma, Lokyi Lai (黎諾懿), and Hubert Wu (胡鴻鈞) were guests on a recent episode of talk show, "Master's Talk" (Master's Talk師父有請), hosted by Bob Lam (林盛斌) and celebrity Feng Shui master, Mak Ling Ling (麥玲玲).
Kenneth Ma Hopes to Get Married Before 50, Rates Roxanne Tong Out of 100 Points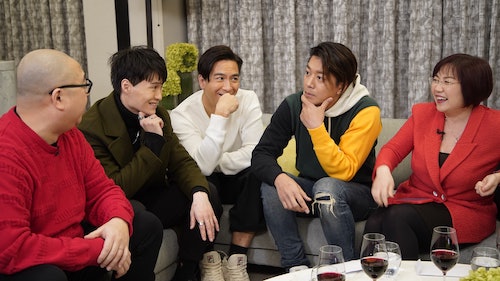 Roxanne Tong Says She Will Marry Kenneth Ma On One Condition
When talking about romance, Mak Ling Ling pointed out Kennth Ma has very strong bonds with the opposite sex and is never the one to take initiative. Kenneth Ma responded, "I don't think so. If both parties match, then there will be less arguments. It's already good like this. My love life won't affect my work. I've had past relationships where our personalities didn't mesh well and we would fight. There is no one who is right or wrong. It's already in the past so there is no problem." As for love at first sight, Kenneth Ma said it never happened to him before. Each of his relationship were developed after getting to know each other for a period of time.
Roxanne Tong Doesn't See Herself Marrying Kenneth Ma Anytime Soon
Kenneth Ma's girlfriend, Roxanne Tong, was a guest on the previous episode. She mentioned the media kept rushing her to get married, which has made her tired of responding to it and said, "He hasn't even proposed yet. How can I respond to you?" Both Kenneth Ma and Roxanne Tong have previously said they would announce it if they were getting married and not hide it.
Mak Ling Ling started looking into Kenneth Ma's life and said he is likely to have children before marriage. Kenneth Ma responded, "I think the chances of this happening are quite low. Probably wouldn't get pregnant before marriage. I hope to get married first and then have children. Every time I'm dating it is heading towards the direction of marriage. I am a very realistic person. If I don't get married, dating is a waste of time. You know that we rarely get any sleep when we work."
Credit: hk01