Tencent's fourth season of the "Produce 101/CHUANG" idol survival show series, "CHUANG 2021", aired on February 17, 2021. The live finale was held on April 24, 2021 after 10 weeks of competition and debuted the 11 member boy group, INTO1. The finale was hosted by He Jiong and invited guests, Jackson Wang, R1SE, and BonBon Girls 303 to perform. The show took place on Hainan, which is often referred to as the "Hawaii" of Asia.
The season was a male idol survival show and Tencent decided to open the audition to overseas trainees amidst the pandemic. There were only 90 trainees this year with over 20 foreign trainees hailing from Japan, Thailand, US, Russia, and Ukraine. The show was presented by actor, Deng Chao, with mentors Ning Jing, Zhou Shen, Amber Liu from f(x), R1SE's Zhou Zhennan, and BonBon Girls 303 member, NeNe, as the "International Assisted Mentor". The show also brought back the number of debut members from 7 to 11.
"CHUANG 2021" had much less damning scandals on the show compared to its counterpart, "Youth With You 3", where several trainees were involved in cheating and bullying scandals early into the competition. However, there were some controversies like AK's past diss track, Zhou Keyu caught vaping in the dorms, political stances from record companies, AVEX and RBW, Zhang Jiayuan smoking before he joined the show, and most recently Zhou Keyu's father's business practices.
Like a lot of previous survival shows, there will be trainees that withdraw the show for various reasons. Japanese trainee, Kazuma Mitchell, from the group, INTERSECTION, was a hot favorite trainee before he suddenly announced his withdrawal from the show on March 8 due to "family issues". His departure from the show saddened many fans. Even after his departure, he was still trending on Weibo the first week. He was greeted by many fans at the airport sending him off and he promised to come back to China.
Aside from that, there were trainees on the show that already had a following as internet celebrities, such as Han Peiquan and Shao Mingming. There were times the two didn't get along, but made their peace when they were eliminated. There is also Lelush, who was originally hired as a translator on the show, but ended up as a reluctant trainee due to a lack of contestants. He constantly showed his defiance to compete on the show and looked forward to getting off the island every week. Despite his pleas, his nonchalant demeanor resonated with netizens, who ended up becoming his fans and started voting for him seriously, much to his dismay. At one point, Lelush accepted his popularity and told his fans that he would be okay getting into the finals, but not debut as part of the final group. So his fan club got him into the top 11 in the 3rd official ranking. They also issued a statement that they would no longer actively vote for Lelush, but hoped to get him ranked in 23rd place as his final ranking as his birthday is on January 23.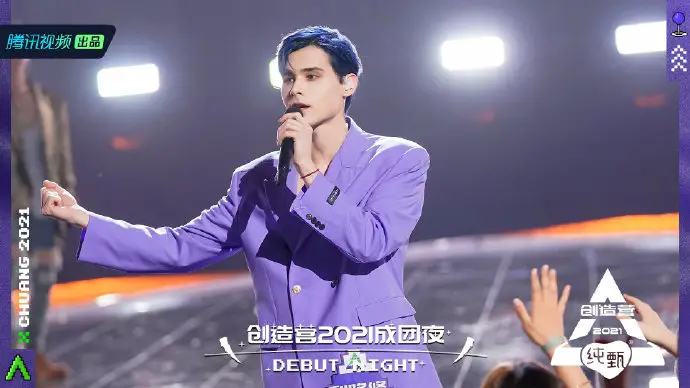 Because of the tight knit relationships formed on the show, there have been many CPs that were create as a result of the show. Liu Yu and Santa became a highly popular CP after the two did a freestyle dance battle that became a duo performance. After that, they were known as the "Hao Duoyu" CP that had already amassed over 140,000K followers in its creation.
For the final stage, the remaining 25 trainees each had a solo performance and were split into 3 groups for the final group performances: "Definition", "We Are the Youth, We Are the Future", and "Be Mine".
The 11 debuted members of INTO1 consist of 2 Japanese members, Santa and Rikimaru, 1 Japanese-American member, Mika, who is originally from Hawaii, but has been living in Japan for the last 6 years, and two Thai members, Nine and Patrick.
INTO1:
INT represents "International and "Internet", the youngsters were born in the new interconnected era and consists of the qualities to interact with China and other countries for cultural exchange.
O represents the earth, representing the youngsters' perfect integration
1 represents the 11 youngsters' collective hard work, merging as one whole for their dream, and also constantly surpassing themselves to become No. 1

Official INTO1 Weibo: https://weibo.com/u/7594386977?profile_ftype=1&is_all=1#_0
Liu Yu (刘宇)
Santa (赞多)
Rikimaru (力丸)
Mika (米卡)
Nine (高卿尘)
Lin Mo (林墨)
Bo Yuan (伯远)
Zhang Jiayuan (张嘉元)
Patrick (尹浩宇)
Zhou Keyu (周柯宇)
AK (Liu Zhang, 刘彰)
12. Caelan (庆怜)
13. Oscar (奥斯卡)
14. Gan Wangxing (甘望星)
15. Hiroto (井汲大翔)
16. Zhang Xingte (张星特)
17. Lelush (利路修)
18. Wu Yuheng (吴宇恒)
19. Ren Yinpeng (任胤蓬)
20. Zhang Xinyao (张欣尧)
21. Yu Gengyin (俞更寅)
22. Fu Sichao (付思超)
23. Hu Yetao (胡烨韬)
24. Amu (羽生田挙武)
25. Xue Bayi (薛八一)

The final 11 was a surprise as hot favorite, Zhou Keyu, who was consistently ranked high, was ranked 8th after the 3rd official ranking. On April 21, there was a controversy regarding Zhou Keyu's estranged father's business practices, which might've affected his overall ranking as his daily ranking went from 8th to 9th and then 9th to 12th.
The 11th spot was also one of much contention in the last few days as it was a battle between Caelan, Oscar, and AK. Caelan and Oscar previously ranked in the top 11 before. However, AK has never ranked in the top 11 until the last few days. It was particularly heart shattering when Mika was announced in 4th place as he said he was a bit worried and sad for his brother, Caelan, when the 11th spot was still open. Caelan trended as high as #3 on Weibo with the hashtag, "Caelan didn't debut".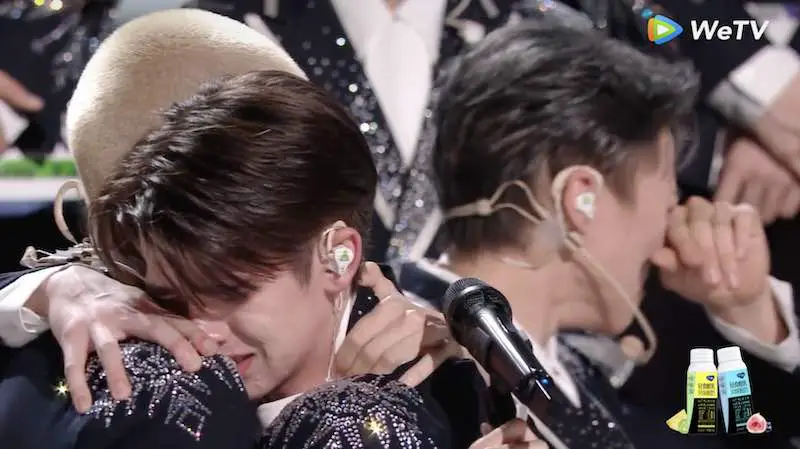 After the rankings were announced, Kazuma updated on Instagram consoling Caelan and congratulating Mika.
AK's ranking at 11th place has caused some ruckus amongst fans over his old diss track about Cai Xukun, NINE PERCENT, and sexualization of minors. During AK's audition stage, he did a rap performance apologizing for that diss track and wanted to come clean knowing that this would open a can of worms.
At one point in the show, He Jiong alerted viewers that all of the buff votes made during the live voting were not tabulated due to a system malfunction. This led to some fans freaking out that all the votes they made during the finale were lost. However, CHUANG's official Weibo later clarified that it was only the vote from the 7:00pm limited voting event that had an issue.
Liu Yu, who was always the favorite to debut as the center of the group, finally broke the Produce 101 China/CHUANG curse where the center of the previous theme songs never debuts.
The group performed their debut song, "INTO1":