Hot favorite trainee, Tony Yu Jingtian, who was consistently ranked first, has withdrawn from the competition just 3 days away from the May 8 finale. Ten days before the show's finale, rumors started circulating Tony's parents had allegedly operated a KTV business selling drugs and sexual services back in 2005. Tony's management company, AstroMusic, issued a statement saying he had no involvement in the activities circulating online. On April 30, Tony's mother issued a post saying she and her husband had already sold their stake in the business in 2008 and denied participating in any of the activities they were accused of in the rumors. A lawsuit was also filed by Tony's father against the rumors circulating online.
Mother of "Youth With You 3" Trainee, Tony Yu Jingtian, Denies Allegations She and Husband Operated KTV Business Offering Sexual Services and Sold Drugs
Despite the statements from AstroMusic and Tony's parents, netizens had already started to call for Tony to withdraw from the competition. A few days later, Tony's nationality came into question, which doused more fuel to the fire when it came to netizens calling for his withdrawal. Tony and his family immigrated to Canada in 2008. Rumors started going viral alleging Tony had dual citizenship in Canada and China, which is not recognized in China. His nationality became a hot topic with some saying he is violating the law and is now a societal issue. Because of this, "Yu Jingtian withdraw from the competition" trended at #1 on Weibo for hours.
Netizens Call for "Youth With You 3" Trainee, Tony Yu Jingtian, to Withdraw from the Competition After His Nationality Comes into Question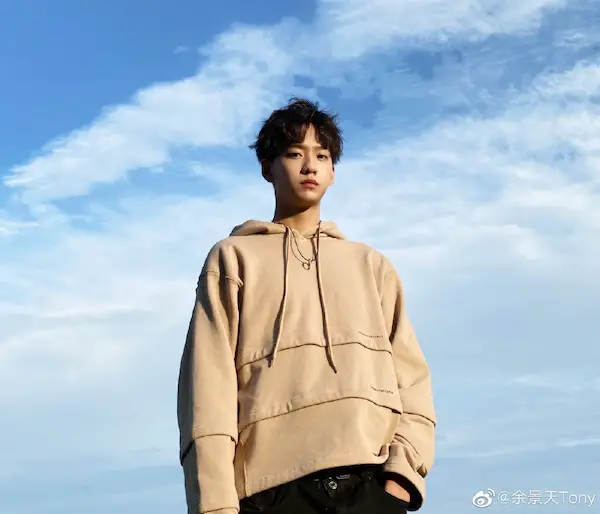 Tony nor his parents have addressed the recent claims about his nationality. With the allegations against his parents and his nationality in question, rumors were going viral that Tony had withdrawn from the show on May 4. On the same day, the Beijing Municipal Bureau of Radio and Television issued a statement saying they had suspended "Youth With You 3" from future recordings due to the recent mass reporting of problems related to the show. They said they had already met with the people in charge at iQIYI ordering them to strictly follow the guidelines set forth by the state's radio and television bureau.
While this was all looming, around 1:39 am on May 5, "Youth With You 3's" official Weibo made a statement in regards to the state's suspension of the recording for the show. The show said they accept the ruling and will follow the state's orders. They will be strictly implementing the regulations and policies set forth by the bureau and temporarily stop recording the show from today onwards. iQIYI also said they will identify and correct existing problems and improve the show's management system.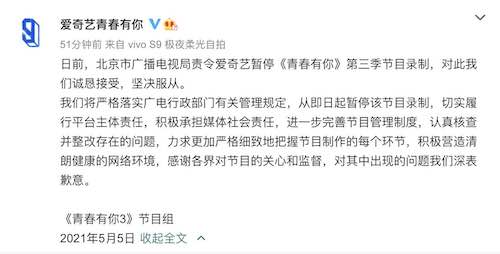 Nine minutes later, AstroMusic issued a statement saying Tony had withdrawn from the show. Their statement read, "Due to all sorts of recent news regarding my company's artist, Yu Jingtian, taking up public resources and bringing trouble to everyone, on behalf of the company and artist, we express our most sincere apologies. At the same time, due to the artist's personal health, he is unable to participate in relevant work activities and have decided to withdraw from the current show recordings."
Tony was seen leaving Dachang in the middle of the night. It's unknown if and when the show will resume recording for the finale.