It's been 10 days since Kris Wu's detainment by the Beijing Chaoyang Police for suspicion of rape. The police have not released any information after his detainment. Several rumors have been swirling about Kris Wu's case and his condition in prison. A week ago, a number of celebrities had to call the police when they were dragged into rumors involving drugs and providing girls for Kris Wu.
The latest news taking the Chinese internet by storm is an interview from a Chinese-American lawyer claiming a woman has come forward accusing Kris Wu of allegedly raping her when she was still an underaged exchange student studying in the US. This August 6 news report was written by a Chinese-language news site based in the US called "The China Press". However, it didn't get any traction on Weibo until August 10, which started trending at #1 with the hashtag, "Wu Yifan Los Angeles Female Fan", with over 12 million mentions at its peak.
According to "The China Press", Chinese-American lawyer, Jing Wang (王婧), from the Kingswood Law Firm in Orange County, told them that the alleged victim went to her law firm a few days ago and proposed the idea of initiating a civil suit against Kris Wu. Jing Wang expressed when Kris Wu was in Los Angeles for his music tour a few years ago, he also held a fan meeting there. The alleged victim went to the fan meeting because she was a fan. They got to exchange WeChat contacts and then after they progressed a step further, she was allegedly raped by Kris Wu during a date.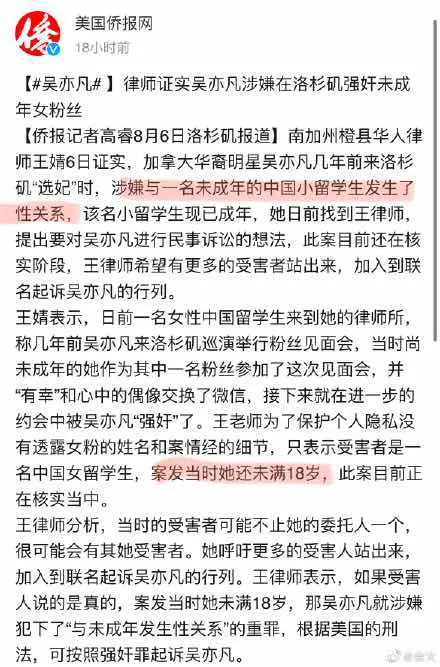 Jing Wang didn't reveal the identity of the alleged victim to protect her and only said she is a Chinese exchange student. She wasn't 18 yet when the alleged crime happened. The alleged victim is now an adult. Jing Wang's law firm is currently in the process of verifying the details in the case. She also said their law firm is only in charge of the civil suit. Any criminal charges would be handled by the state prosecutor.
According to Jing Wang's analysis, she thinks there is a possibility of more victims. She hopes more victims will come forward and join together to bring a lawsuit against Kris Wu. Jing Wang says if what the alleged victim said is true, Kris Wu can be criminally prosecuted in the US for having sex with a minor, which is a felony.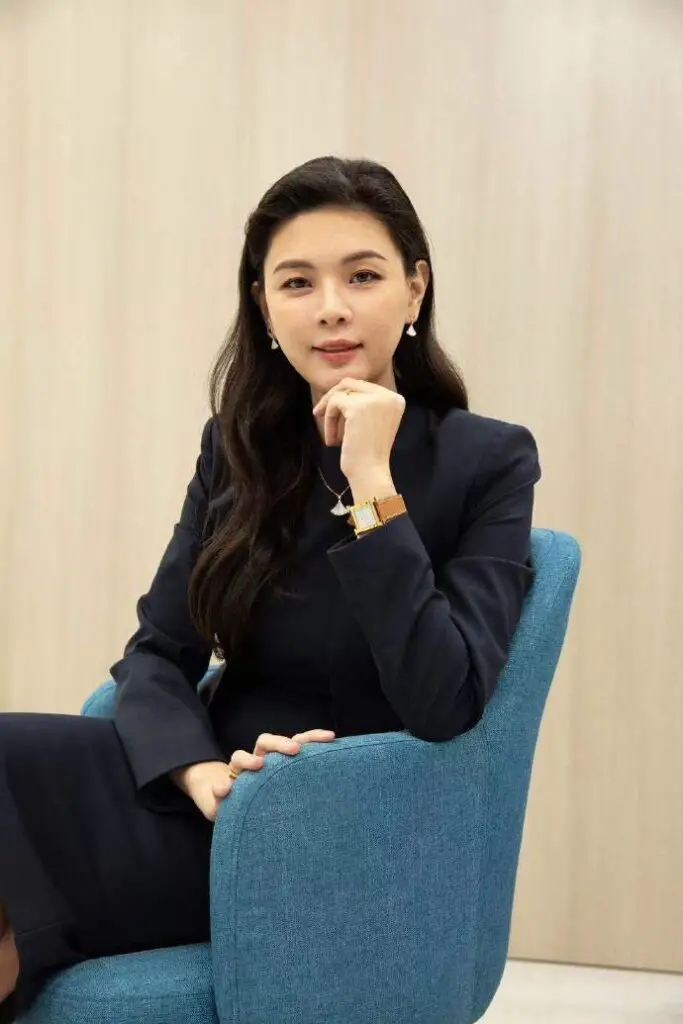 The Weibo post from "The China Press" garnered over 1.5 million likes and over 40,000 comments at the writing of this article. Quite a number of fans tried to dispel the new allegations saying Kris Wu never held a fan meeting in Los Angeles. They said writing out the lawyer's full name and inclusion of her picture in the news report was obviously a soft article to promote her. They also tried to discredit the story saying if the alleged victim was raped, she would've immediately reported the crime and not wait a few years later to file a civil suit and try to get money. They also said Jing Wang primarily handles immigration and business fraud cases and it doesn't seem to add up.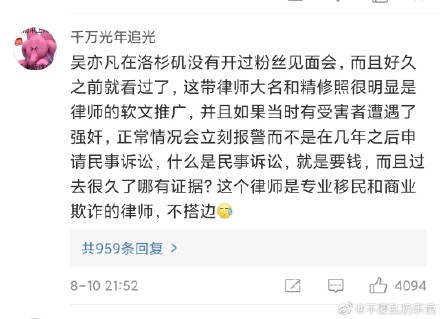 However, there were netizens who showed screenshots of promotions for a meet and greet Kris Wu was a part of in December 2016 when he was promoting the movie, "xXx: Return of Xander Cage", with the cast in Los Angeles. One fan responded to the screenshot saying Kris Wu has never toured in Los Angeles. They said the so-called "fan meeting" was an event with the whole cast before the movie premiere with the media also present.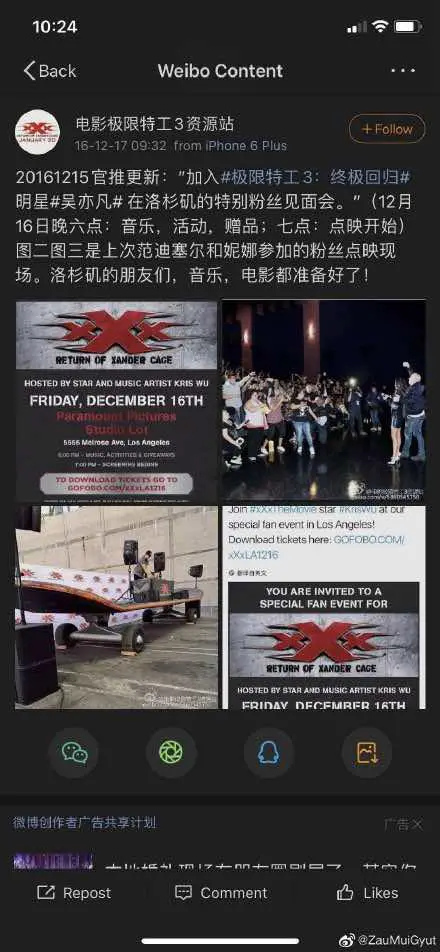 Credit: Weibo (1), The China Press