Former "Youth With You 3" contestant, Tony Yu Jingtian, had one of the most tragic exit in the history of Chinese survival shows. He was a hot favorite to debut as the center of "Youth With You 3". However, just 10 days before the show's finale, a huge scandal broke out alleging Tony Yu's parents ran a KTV in China suspected of selling drugs and operating a prostitution ring. Tony Yu's mother spoke out denying those allegations, explaining they had already sold their shares to their partner in 2008 before immigrating to Canada. His father also followed up with a defamation lawsuit against the people who started the rumors.
There were also posts circulating online claiming Tony Yu's parents' KTV, "Jingli KTV", had job postings looking to hire women to be sex workers or night club escorts. Netizens called for Tony Yu's withdrawal from "Youth With You 3". It was also during this time that netizens brought up Tony Yu's nationality into question. Some netizens claimed Tony Yu had dual citizenship, which isn't recognized in China. A hashtag started trending calling for Tony Yu to withdraw from the show once again. There have been differing stances from netizens on the actual laws in China overseeing dual citizenship. Some netizens have said it's illegal to have dual nationalities, while some have argued that while not recognized, it's certainly not illegal.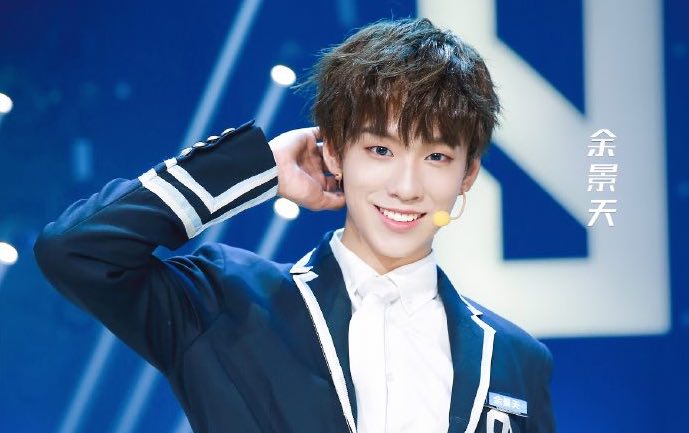 While all this was happening with Tony Yu, iQIYI and the show got in trouble with the government when they received mass reports about food waste resulting from fans buying mass quantities of the milk product from the sponsor only for the QR code to cast votes. The government reported the incident and showed groups of people dumping mass quantities of milk into a ditch, which later became known as the "milk-pouring incident". As a result of this, iQIYI was ordered by the government to immediately halt filming and review the show's voting system on May 4.
After midnight on May 5, Tony Yu's management company, Astro Music, announced he had withdrawn from the show due to health concerns and wouldn't be able to carry out his work activities. A few days later, iQIYI announced the recording for the finale was canceled. During that period, there were rumors the top 9 members were announced with just trainees and staff members. However, the fate of the top 9 was up in the air and shortly after, there were rumors that future survival shows would be banned.
Tony Yu and his parents received a lot of blame for the finale getting canceled and no group debuting. Ever since the scandal, Tony Yu had remained out of the spotlight since public opinion already deemed him and his parents to be guilty. As we know, the rumored top 9 members finally debuted on July 25 as IXFORM.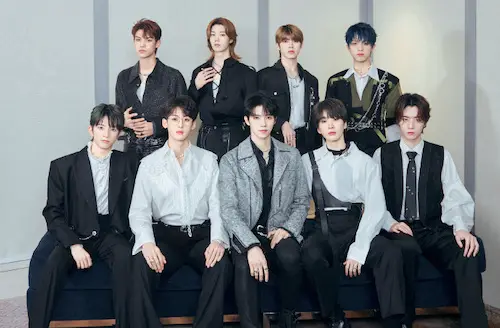 Around August 8, there were discussions circulating on Weibo that the Chengdu police had absolved "Jingli KTV" of the alleged drugs and prostitution crimes against them. A screenshot of a website from The Official Website of Chengdu Municipal People's Government showed their response to an anonymous phone call inquiring about the mass reports of drugs being sold outside "Jingli KTV". They said the person selling drugs was prosecuted, but the police never reported whether "Jingli KTV" was involved in selling drugs and they wanted to find out.
In their investigation results, they said, "After verifying, the 'Chengdu Jingli KTV' incident was a hyped publicity stunt that was triggered by a survival show in the entertainment industry. The municipal government had been following this case closely all along." The government also said "Jingli KTV" was operating legally with the proper documents and registration. They also sent out a civil employee to the KTV and found no signs of suspected drugs or prostitution during a visit and review of their daily operations. As for the online job postings hiring women for sex work, the government's response said the advertisements were from a company on the third floor of where the KTV is located. They explicitly said it had nothing to do with "Jingli KTV".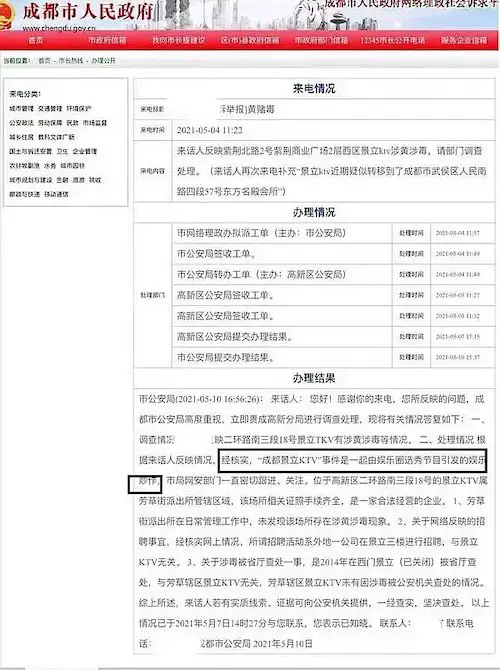 As for the suspected drug case that was being handled by the provincial department, the Chengdu government said it was a 2014 case involving a "Ximen Jingli" business that had already shut down and not "Jingli KTV". They also said there was no situation in which "Jingli KTV" was investigated for suspicion of selling drugs by the public security bureau.
Lastly, the Chengdu municipal government said the anonymous caller is welcomed to provide legitimate evidence and they would follow up. They relayed their findings with the caller on May 7 and the caller also acknowledged the phone call.
As it turns out multiple people had inquired about the same case. One person had inquired on May 4 and was also notified by phone call on May 7. The online response was also published on May 10.
This clarification from the Chengdu government had been circulating on Weibo since August 8. However, it never trended on Weibo. While the validity of this response from the Chengdu government can't be validated as it requires a passcode to access their response, the site does exist and allows citizens to make inquiries: http://12345.chengdu.gov.cn/sjindex.
There is also debate about whether Tony Yu's father, Yu Ping, owned "Ximen Jingli". Some fans have analyzed that even if Yu Ping did own and/or operate "Ximen Jingli", the establishment was only punished for "administrative penalties". If there was any criminal investigation, Yu Ping would have a record of him being criminally charged, which he doesn't have.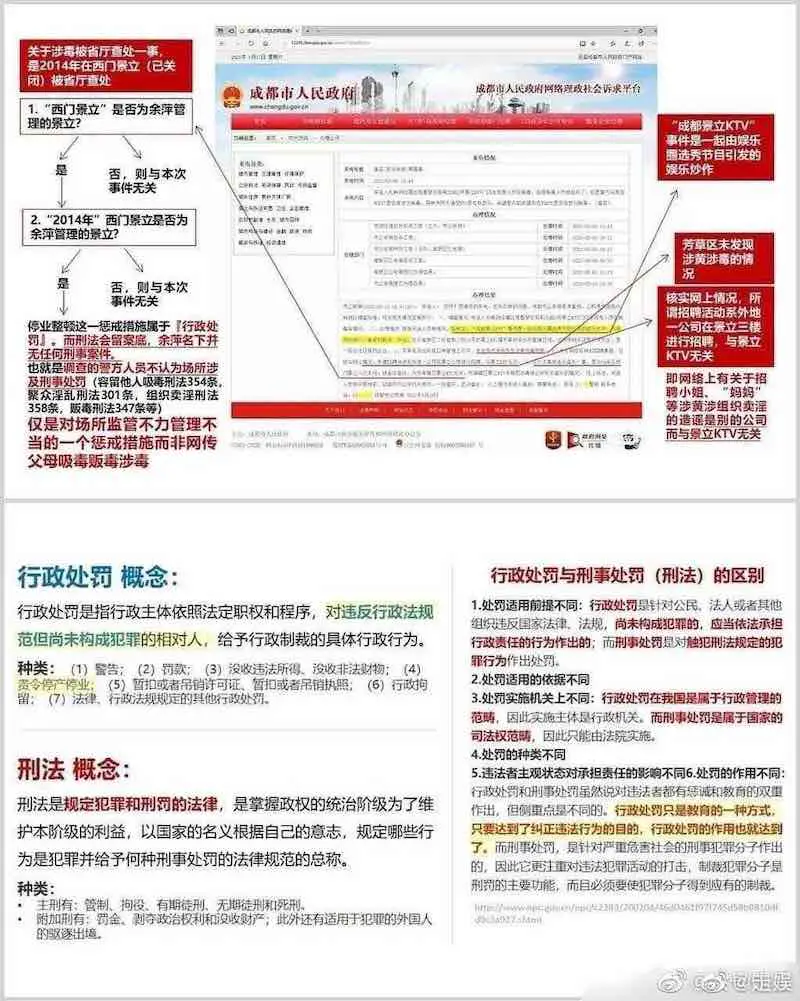 Many netizens expressed disbelief that Tony Yu and his parents were implicated in such a scandal over a survival show and said he needed to be vindicated. Tony Yu's parents also had a trial for their defamation case against the perpetrators who started the rumors on August 9. There haven't been any details as the case is ongoing with another court date in the coming months. Tony Yu's fans have started leaving comments on posts from the "Youth With You 3" Weibo account telling them to apologize to Tony Yu and demanded for his name to be cleared.