Ever since Zheng Shuang's (郑爽) surrogacy scandal came to light in January, she also had to deal with being investigated by the Shanghai tax bureau on suspicion of tax evasion and fraud in April through the use of "yin yang contracts".
On August 26, several of Zheng Shuang's works were taken down. Her super topic on Weibo was also shut down. Then on August 27, Zheng Shuang's personal and studio Weibo accounts were permanently banned from posting. Shortly after, CCTV News reported that Zheng Shuang was found guilty of tax evasion by the Shanghai tax bureau.
The verdict
The tax bureau found that in 2019, Zheng Shuang agreed on a 160M RMB salary with the producers for her to star in the drama, "A Chinese Ghost Story" (倩女幽魂). The actual amount she received was 156M RMB. However, she failed to declare these earnings and was found to have evaded 43.03M RMB in taxes and underpaid 16.18M EMB in other taxes. Zheng Shuang also had other performance related earnings in the amount of 35.07M RMB, evading 2.24M RMB in taxes, and underpaid 10.34M RMB in other taxes. In total, Zheng Shuang failed to declare 191M RMB in earnings from 2019-2020, evading 45.27M RMB in taxes, and underpaid 26.52M in other taxes.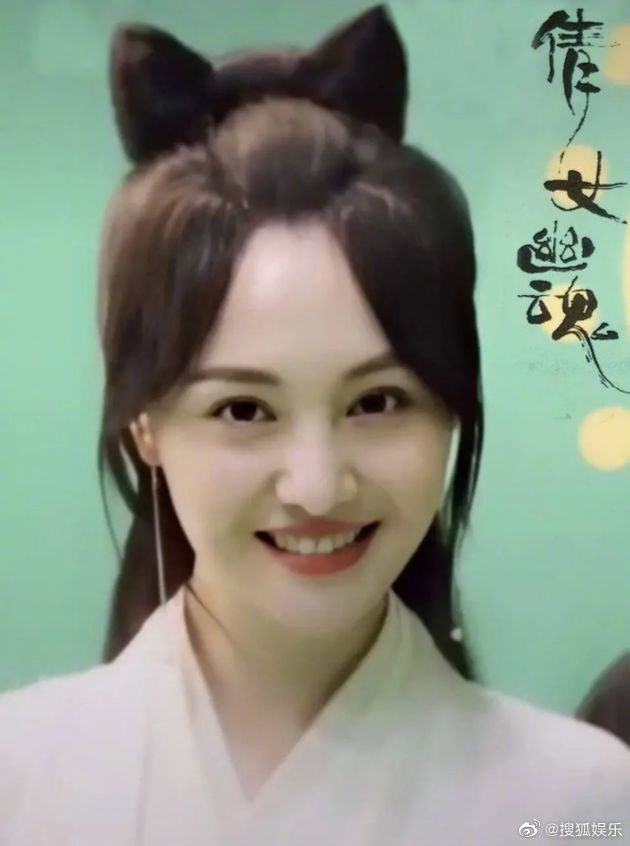 Zheng Shuang was fined a total of 299M RMB in back taxes, fees, and fines. At the moment, Zheng Shuang has already paid the full amount owed within the specified time frame. As this was Zheng Shuang's first tax offense, she paid back the full amount in the given time period, and hasn't been found criminally liable for prior tax offenses, she will not be found criminally liable in this instance.
As for Zhang Heng (张恒), he was one of the whistleblowers in this case. He also served as Zheng Shuang's manager during the "A Chinese Ghost Story" project and is suspected of helping her broker a deal in which he split the 160M RMB salary into smaller contracts, setting up "shell companies", and other activities to help Zheng Shuang evade taxes. The Shanghai tax bureau has already opened a case and started the investigation on Zhang Heng and will be dealt with in accordance with the law. The companies involved in this deal are also being investigated.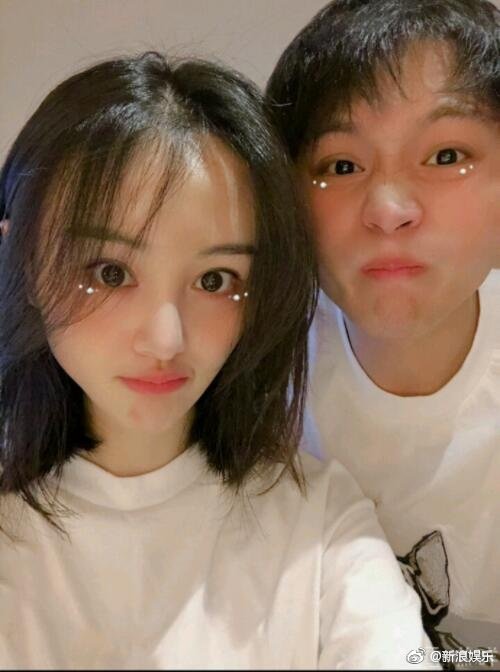 According to the Shanghai tax bureau, when Zheng Shuang was served with the notice of their decision to impose administrative penalties, she didn't raise any objections, ask for a reconsideration, or file an appeal.
After the verdict came out, the National Radio and Television Administration (NRTA) expressed "A Chinese Ghost Story" cannot be aired and that Zheng Shuang cannot be invited to any show, program, or drama and any shows she has participated in must not be aired.
Zheng Shuang's apology
Zheng Shuang whose Weibo account was permanently banned from posting earlier in the day, posted her apology at 4:15pm:
"At this moment, I am extremely regretful and ashamed.
During the course of cooperating with the tax bureau's investigation, I learned that due to my own lack of knowledge on personal finances and weak legal awareness, I didn't pay my taxes in strict accordance with the country's tax collection requirements and even created negative social impacts. For this, I sincerely apologize to the country, the society, and friends who care about me.
The tax bureau came to a decision to serve me with administrative penalties in accordance with the law. I accept this decision and promise to overcome all the difficulties and pay the taxes and penalties on time.
Debuting for more than 10 years, I was fortunate to realize my dreams of becoming an actor following the country's footsteps in the flourishing development of the film and television industry. I know that each step of my growth is inseparable from the cultivation of the country. As a public figure, all I have gained came from everyone's attention. I will absorb the lessons learned from this incident, strictly abide by the law in the future, and not let down my fan's support and society's attention anymore.
This lesson will be a long wake up call in my life, warning me that I must always examine myself, not just being a law abiding citizen, but must use even higher requirements to restrain myself. I will not shift responsibility. I will face the mistakes I made bravely. I hope everyone can continue to supervise me, encourage me! Lastly, I want to say sorry to everyone again! Please accept my apology from the heart!

Zheng Shuang 3:15am
2021 August 27″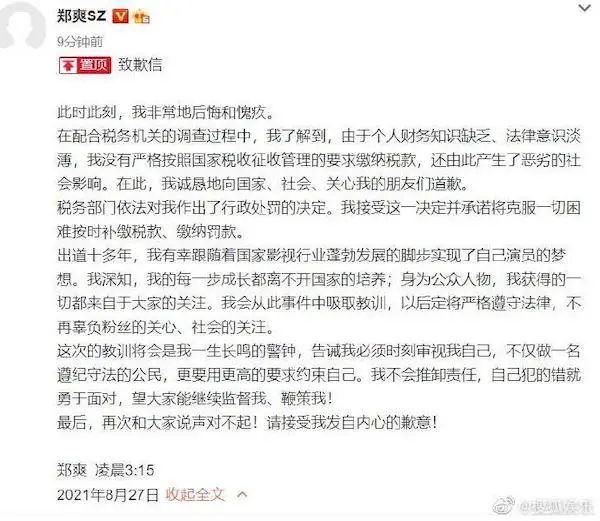 Back in July, Zheng Shuang posted that she never took 160M in salary nor did she have a daily salary of 2.8M. She revealed all her assets were frozen and was struggling to get by in the US.