It was a shock to some people when Wang Leehom (王力宏) and his (soon-to-be) ex-wife, Lee Jinglei (李靚蕾), announced they were filing for divorce as they looked like the perfect family. All sorts of rumors started viral going about the cause for their divorce. The next day, a netizen accused Wang Leehom of cheating on Lee Jinglei and BY2 member, Yumi (孙雨), at the same time back in 2013. Both parties have denied the rumors.
With 13 days left in 2021, also known as the "year of scandals", Lee Jinglei shook all the Sino-entertainment industries with a 5,000 word essay exposing Wang Leehom of allegedly cheating on her with multiple hookup partners, soliciting prostitutes, inflicting emotional abuse on her, being an absent father, and more.
After Lee Jinglei published her essay on the night of December 17, the first brand to terminate their partnership with Wang Leehom was Infiniti China, followed by Readboy Kids, and a statement from a jewelry brand that revealed their contract had ended on November 30.
It's reported Yumi was being implicated in the rumors with Wang Leehom again and her old IG posts after Lee Jinglei published her post describing a few of the women involved with him. As a result, BY2's Yumi posted a picture showing she filed a police report for slander in the middle of the night on December 18.
As Lee Jinglei already came this so far, she was not backing down from anything. Lee Jinglei commented on the post and said, "Please give me the contact information for the police. I will provide the evidence. Thank you."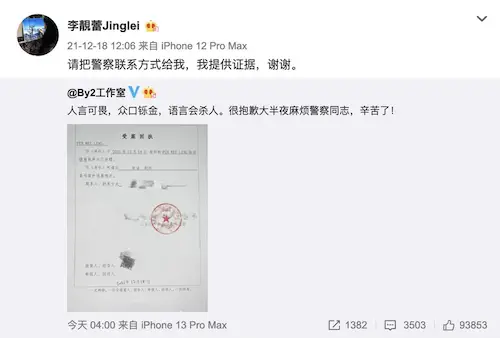 Wang Leehom hasn't addressed Lee Jinglei's response to their divorce. He was reportedly spotted waving to fans at a Beijing airport in the middle of the night on December 18.