Chinese singer, Huo Zun (霍尊), was canceled and subsequently announced his departure from the entertainment industry in August when his ex-girlfriend, Chen Lu(陈露), exposed him for cheating on her with several women. Chen Lu detailed her grievances in long posts saying how she sacrificed her career and money for Huo Zun while still not being able to go public with their relationship due to his celebrity status. She also revealed Huo Zun would brag about his hookups with in his men's group chat, badmouthed other artists, and made misogynistic comments toward women.
The break up got ugly with Chen Lu accusing Huo Zun of forcing her to break up and sign a contract that stipulated she had to cooperate with Huo Zun's requests in the event there was a PR crisis. When Chen Lu approached Huo Zun about him cheating on her, he reportedly asked her to name a price. He later offered 3 million RMB to Chen Lu in exchange for her to sign the contract to stay quiet about their relationship. Back in May, Chen Lu reportedly asked for 20 million RMB, but it was negotiated down to 9 million RMB.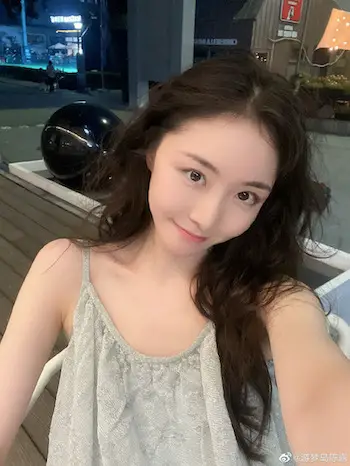 Huo Zun had already paid 580,000 RMB at this point and then later transferred 70,000 RMB after she released her posts. Chen Lu's posts led to Huo Zun being removed from two variety shows. Afterwards, Huo Zun stopped payment because he didn't have the ability to continue paying anymore and accused Chen Lu of extortion. In response to Chen Lu's posts, Huo Zun denied cheating on her and announced he was quitting the entertainment industry. With this news, it was reported netizens started reporting the case to the police. It was revealed Huo Zun and his family filed a police report against Chen Lu around late August. On September 18, a case was formally established after the police gathered all the relevant evidence.
On December 23, a netizen claiming to be a friend of Chen Lu revealed she was arrested on suspicion of blackmail and extortion on December 22. She has applied for release on bail pending a trial, but it's unknown if it was approved as her family and friends have tried to contact her, but she didn't pick up.
A clip from the security camera in Hu Zuo's studio was released showing Huo Zun saying he didn't have that much money, Chen Lu is heard saying he can go borrow money from his friends and that she'll give him until his birthday, September 18 to repay her. Her friend, Wang Meng (王萌), was heard saying they'll give him 5 months to repay it more than once and that she has connections to some banks and can help him with getting a loan.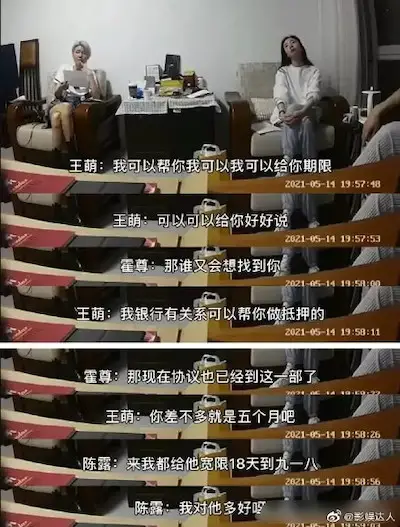 When reporters reached out to Huo Zun on Chen Lu's arrest, he said he is currently at home taking care of his bed-stricken mother and will patiently wait for the law to give him justice. Huo Zun's father told reporters, "No need". While Wang Meng was seen posting, "hehe".