The latest news surrounding Wang Leehom (王力宏) and Lee Jinglei's (李靚蕾) deteriorating relationship has led to some media outlets to call this the second chapter in their divorce saga. After Lee Jinglei issued her response to Wang Leehom's team explaining why he brought three men to visit their children, the hashtag "Wang Leehom balloon" started circulating on Weibo.
It turns out a netizen had shared a different angle of the surveillance footage from the day Wang Leehom brought three men to visit his children. It shows toys and balloons Wang Leehom bought for his kids. The netizen wrote, "After daddy was rejected from seeing the kids, the presents were left at the door for [them]. Because boss didn't enter, the things were left at the door. These photos were taken by the staff member. This is what you call evidence!", seemingly taking a shot at Lee Jinglei.
However, on the morning of January 13, the photos were trending with a new hashtag, "Fan reveals video of Wang Leehom visiting children." Netizens have questioned how a fan would be able to obtain the footage, leading to speculation the photos were released by Wang Leehom's staff member or a water army.
Following Wang Leehom's team's statement that he was advised by his lawyer to bring a third party with him to visit his children, his management company revealed a letter from his law firm dated January 12, 2022. The letter shows Wang Leehom's counsel advising him that he should never be alone with Lee Jinglei unless another adult approved by his counsel is present. The lawyer's note also took shots at Lee Jinglei saying she has "turned their divorce into a false, fabricated, and malicious smear campaign."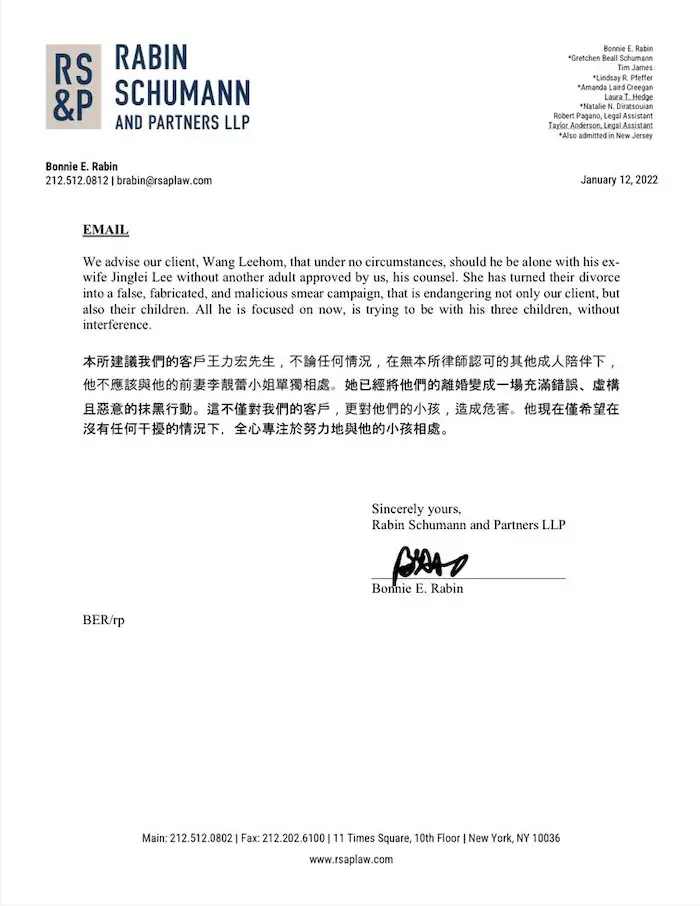 Credit: Weibo (1, 2), Apple Daily TW