When Li Yifeng (李易峰) went viral for being the three letter male artist who was arrested on suspicion of soliciting prostitution, many rumors exposed he was hooking up with an internet celebrity by the name of "Blase湾湾 (Wan Wan)". They were rumored to have traveled to Thailand together to spend the new year back in 2018.
After the Beijing Police announced Li Yifeng confessed to soliciting prostitution and was in administrative detention, many rumors started circulating about Wan Wan's identity and her relationship with Li Yifeng.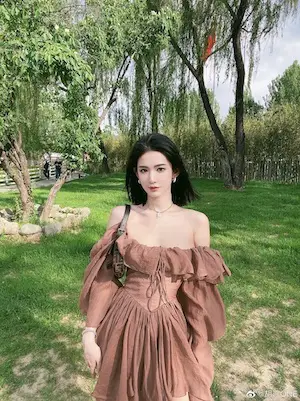 One particular account by the name of "_blase湾湾" was trending a few days ago when they wrote a post claiming to be Wan Wan's alt account. She included the hashtag, "How to view Li Yifeng's statement" said she had been receiving threats over the last 10+ hours, bu she still had to tell everything she knew to everyone. She proceeds to say, "Aside from Mr. Li, there is still L last name, W last name, C last name, H last name (artists). Singers with last names beginning with H, Z, X. Rich second gen heirs with W and H last names both committed the same mistake as Mr. Li before."
The same person made another post saying she was prepared to expose a "total of 17 people, article more than 10,000 characters, and 272 pictures to back it up with receipts."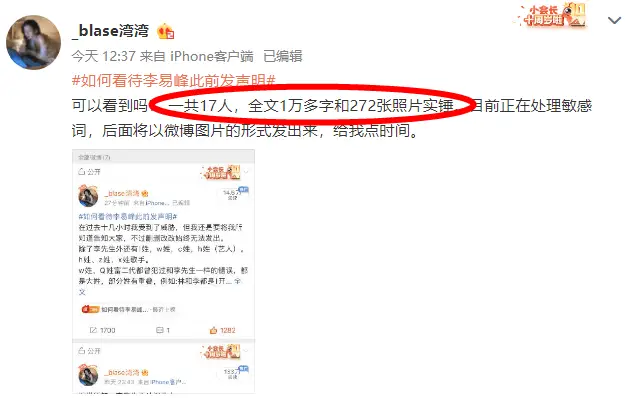 On September 14, the real Wan Wan, whose real name is Hu Wan (胡湾), made a statement from her main account, "胡湾ONE", and denied all the rumors posted. Wan Wan said all the account "_blase湾湾" is impersonating her to publish fake rumors. She has already filed a police report and gathered evidence to ask lawyers to start a case against the rumors and defamatory statements. Wan Wan also denied doing any of the illegal activities stated in the rumors.