TVB actor, Mat Yeung (楊明), was involved in a car accident back in August 2020 where he crashed onto a ramp on the road at The Peak. At the time of the accident, Mat Yeung refused to take a breathalyzer test and later refused to provide blood samples for blood alcohol testing. Mat Yeung denied he was driving under the influence and couldn't really explain how he lost control of the car. He was found guilty of careless driving and having tinted windows was sentenced to 18 days in prison, suspended license for 2 years, and a $2,000 HKD fine.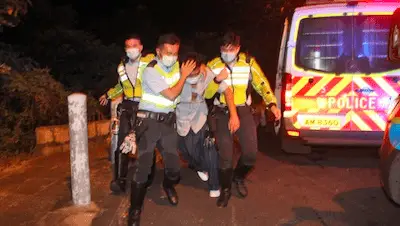 Mat Yeung had filed an appeal and the appeal hearing took place on December 22, 2022. He was accompanied by his girlfriend, Lisa Ch'ng (莊思明), and her sister, Jacquelin Ch'ng (莊鍶敏), at the appeal hearing. The judge upheld the original verdict, dismissed the appeal, and ordered Mat Yeung to be immediately imprisoned to serve his sentence.
According to reports, Mat Yeung's expression was sunken, clenched his fists, and lowered his head after the verdict was announced by the judge. After court was adjourned, Mat Yeung went to hold Lisa Ch'ng's hands to console her. Mat Yeung also gave his belongings to his girlfriend and spoke a few words before he was escorted away by officers to be transferred to the prison facility.
Credit: hk.on.cc, hk01, Mat Yeung IG