For those of us too young to remember, Faye Wong (王菲) and Zhou Xun (周迅) used to be BFFs many years ago.  They dated two brothers with mutual interest for rock music, which led them to being really good friends throughout the years.  The drama between the two started fifteen years ago when Zhou Xun was dating Li Ya Peng, who later become Faye's ex-husband.  Li Ya Peng dumped Zhou Xun for Faye, which led to the bad blood between the two.
Zhou Xun Admits She Has a Lot of Insecurities about Love
Faye Wong's Daughter, Li Yan, Flaunting Wealth Like a Hypebeast at Boarding School
Now it gets more interesting as years later, after Faye and Li Ya Peng split up, we now have Zhou Xun hanging out intimately with Faye's eldest daughter, Leah Dou.  Some have said they are more than just friends as Zhou Xun even brought Leah home to visit her parents.  Was this a move on Zhou Xun's part to get back at Faye for taking away Li Ya Peng all those years ago?  To add more awkwardness to the situation, Leah brought Zhou Xun home for Lunar Year's dinner with Faye and you guessed it, Li Ya Peng.
No Birthday Wishes from Archie Kao for Zhou Xun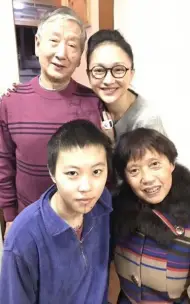 Archie Kao Not on Guest List for Zhou Xun's Charity Event
With Faye returning to the spotlight on Hunan Television's, "PhantaCity" (幻乐之城) not only did Faye's two daughters attend the taping to show support for their mom.  Zhou Xun also attended the show as a guest, breaking the ice ever since the "菲鵬" (FayePeng) scandal.  Workers on the show said the interactions between the two stars were very natural and cordial, leaving attendees in awe.
Netizens Envious of Faye Wong's Daughter Flaunting Parents' Wealth
Even though Li Ya Peng is Leah's ex-stepfather, the two have remained close over the years.  Every time Leah is in Beijing, she would meet up with her parents, including Peng.  Leah would even bring Zhou Xun to these gatherings when she's free. Rumor has it, it was Leah who convinced Zhou Xun to go on the show to support Faye.  Given the progression in their relationship, how can Zhou Xun say no to Leah?