Ruco Chan (陳展鵬), 41, announced today he is getting married with girlfriend, Phoebe Sin (單文柔), 28.  As it turns out, their recent trip to London wasn't just any ordinary trip.  The couple also took their wedding pictures in France and London.  This is fast news considering yesterday, reporters asked Ruco if they reached new levels in their relationship after vacationing together.  Looks like the reporter's intuition was right.
Ruco Chan and Phoebe Sin Announce Pregnancy
Ruco Chan Grateful for Girlfriend Standing By Him Through Rough Times
Ruco formally announced to several media outlets the following message:
To all the media and our friends, thank you for always supporting me.  Today, I am very happy to announce, I am getting married!  I've always been so focused on work until Phoebe came along that it made us feel happy and what trust is.  As I am a traditional person,  it is time for me to use all my efforts to start a beautiful family.  Thank you everyone for your support.  I hope we get your blessings!"
Ruco recorded another message, "Hello everyone.  Thank you for your support.  I am very happy to announce today that I will be getting married.  Everyone should have seen some posts regarding my thoughts.  I won't go into details again, but I want to thank TVB for giving Phoebe and I time off to take our wedding photos.  There is one photo we took of me proposing to Phoebe in front of a London bus.  This is what I owed Phoebe.  I had to do this in order for her to accept my proposal.  Phoebe and I are officially registering our marriage in October.  Our families will have a celebration dinner.  As for other arrangements, I'll let everyone know when the time comes.  Once again, thank you everyone for your blessings!"
Ruco Chan Ready to Have Children, Denies Having Shotgun Marriage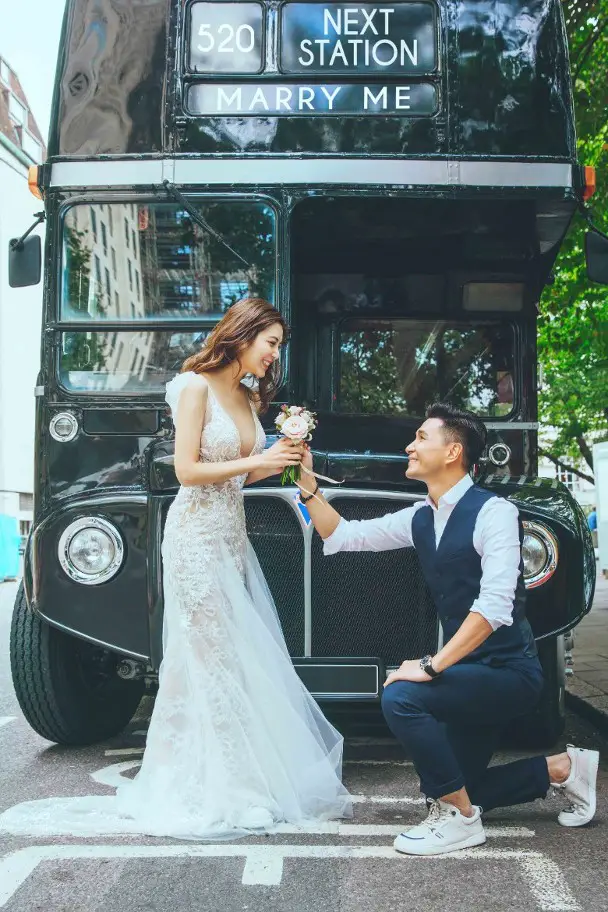 TVB's Big Big Channel interviewed Ruco and asked when he decided it was time to get married, he said "Actually, I've been planning it for a long time.  Maybe it's due to my personality, but it has to be the right time in order for me to make that commitment."  
Phoebe Sin Rejected Ruco Chan's Initial Marriage Proposal and Details the Successful Proposal
When asked where he proposed, Ruco says, "In Hong Kong.  There was also another reason for us to go to London.  She's always thinks I might not be brave enough to propose to her in the streets.  She likes London a lot and also went to school there.  I hope to leave a memorable moment here so we took this picture."  When asked if there will be further good news since the marriage announcement was so sudden, Ruco strongly emphasized, "This is not a shotgun wedding.  After marriage, we will plan on having children." 
Ruco details the wedding pictures process in London, "We had to buy a lot of things in London, like my tux, because I wanted to do something different.  Taking pictures this time was very stimulating.  Aside from sharing the pictures with everyone, I was also afraid our wedding photo session would be leaked.  If one photo gets leaked on the internet, then the whole thing is a a bust."  
Congratulations to Ruco and Phoebe! 
Credit: hk.on.cc, Apple Daily, East Week