The two best looking members (E/N: in my opinion), Wu Zun (吳尊) and Aaron Yan (炎亞綸), of now disbanded Taiwanese idol group, Fahrenheit, reunited at last for a celebrity basketball game in Shanghai yesterday.  The group was formed in 2005 with four members, Jiro Wang (汪東城) Calvin Chen (辰亦儒), Wu Zun and Aaron Yan.  Fahrenheit disbanded in 2011 when Wu Zun left the group to go solo and focus his career in China.
Aaron Yan Forced to Sing Fahrenheit's "Only Have Feelings For You" After Losing Bet to Wu Zun
Aaron Yan and Lai Kuanlin Show Brotherly Love to Wu Zun
Fan Felt Like Third Party After Bringing Boyfriend to See Idol, Aaron Yan
Three Fourths of Fahrenheit Had a Mini Reunion
Although the two were on different teams, eyewitnesses said the two had a lot of close interactions and were having fun.  Fans were screaming in pure excitement.  Netizens even said, "I hope to live long enough to see all members of Fahrenheit reunite."  Other notable celebrities participating in the basketball game include, Kris Wu (吴亦凡), Dylan Wang (王鹤棣), breakout star of the 2018 Chinese remake of Meteor Garden, Bai Jingting (白敬亭) and others.  In the end, Aaron's blue team beat Wu Zun's red team 61 to 60.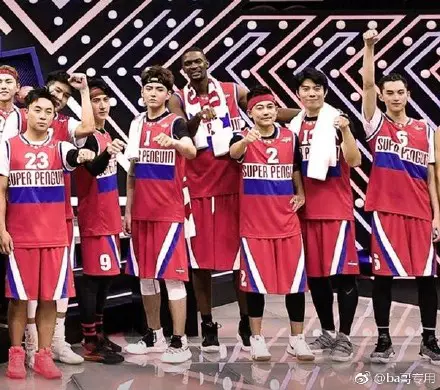 Wu Zun Says Everyone is Overthinking into the Rumors of Aaron Yan Being in Love with Jiro Wang
Calvin Chen Joins Wu Zun's Birthday Party as a Special Guest, Performs Fahrenheit's "Love You More and More" Together
Aaron once said out of all the members, he only kept in touch with Wu Zun.  He also mentioned only Wu Zun ever treated him like a partner and goes on to say Jiro and Calvin are not his friends.  A lot of netizens realize the idea of the four reuniting together as Fahrenheit would be very hard. 
Wu Zun Gets His Good Looks From His 72 Year Old Youthful Father
Aaron Yan Clarifies His 2014 Statement "Fahrenheit Aren't Friends"
Credit: Apple Daily TW, 扒圈速报 Weibo, 鸢时初一 Weibo, ba哥专用 Weibo, Asia Entertainment News Channel and iQiyi