Fahrenheit fans can rejoice as Wu Zun and Aaron Yan reunited once again for the "2019 Super Penguin League"s Super 3 basketball tournament. The Super Penguin league's "Super 3" championship game was held in Beijing on August 24. Former Fahrenheit members, Aaron Yan (炎亞綸)and Wu Zun (吳尊), each lead their own teams to the finals.
Aaron Yan Felt This Way about Fahrenheit After Watching TVXQ Perform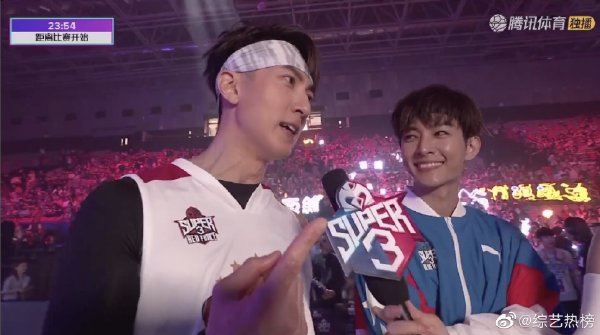 Aaron Yan Sometimes Felt Hatred Towards Fahrenheit Members and Why They're Not in Contact
Before the game started, Wu Zun and Aaron Yan were interviewed about their wishes for the final game. Wu Zun expressed he hoped to win the championship, while Aaron Yan stated if he lost to Wu Zun, he would accept defeat and not feel resigned. Wu Zun jokingly said he if won the championship, he'd have a concert at the arena. Before ending the interview, the host asked them to talk trash to each other since they're on different teams. Aaron Yan said to Wu Zun, "Play good ball, don't get hurt.", while Wu Zun said to Aaron Yan, "Don't get hurt. If I lose, I'd only lose to you."
Aaron Yan Tells CP Fans to Stop Fantasizing about Him and Jiro Wang
Watch the interview here: http://t.cn/Ai8vqv41
Unfortunately, both of their teams were eliminated out of the 8 teams competing for the championship. During the break, Wu Zun and Aaron Yan appeared on court together and played 1 on 1. The two of them made a deal that whoever lost would have to sing a Fahrenheit song as punishment. Aaron Yan lost and Wu Zun made sure to remind him of their deal. Aaron Yan accepted the punishment and sang one of Fahrenheit's earlier songs, "Only Have Feelings For You" (只对你有感觉), while laying down on the floor. The fans in the crowd sang along with Aaron Yan bringing back many memories.
Aaron Yan Blasts Netizen for Asking Him if He is Gay
Watch Aaron Yan serenade the crowd: http://t.cn/Ai8PZHVs?m=4408877317458209&u=6598570151
Wu Zun giving Aaron Yan a smack: http://t.cn/Ai8ZiLLA
Aaron Yan and Lai Kuanlin Show Brotherly Love to Wu Zun
Throwback to Fahrenheit's – "Only Have Feelings For You":
Credit: Sina, Weibo (1, 2, 3), Aaron Yan IG