Chinese girl group, SNH48, were in a frightening ordeal when its leader, Wan Lina (万丽娜), revealed in a now deleted Weibo post today that someone had illegally trespassed her dorm room. In her post, she revealed an intruder had illegally trespassed into her room and the security window was destroyed. There were things stolen and rummaged through. Wan Lina also expressed the police had arrived and she still had to cooperate with the police for their investigation the following day. She expressed regret in not being able to attend a fan meeting being held on the same day.
SNH48's Li Yuqi Apologizes After Being Accused of Plagiarizing Super Junior's Song
Debt Collection Agency Goes After SNH48's Lu Ting After Fan Gives Out Her Number to Borrow Money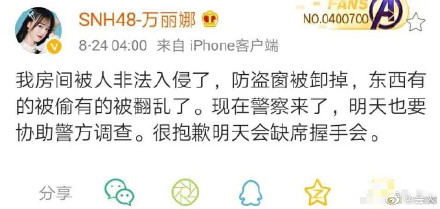 SNH48's Sun Zhenni Denies Dating "Qing Chun You Ni" Contestant, Chen Tao
Screenshots of Wan Lina's conversation with her fellow member, Lin Siyi (林思意) were revealed. Wan Lina expressed this was the first time she ever experienced something like this and cried the most out of these past two years. She also expressed she was going to clean her personal items, throw anything that should be thrown and sterilize everything. Lin Siyi is then shown saying the police said it's highly probable this was an act from a pervert. All the members stayed up to obtain evidence and went to the police station to give their statement.
Former SNH48 Member, Ju Jingyi, Suspected of Getting Plastic Surgery
SNH48 Forms "World's First E-Commerce Idol Girl Group", AW9
Lin Siyi reported Wan Lina was safe and sound. The police had already retrieved the fingerprints from the broken window. She later gave an update that all the members were safe and no one got hurt. Their company were in the process of reviewing all the security footage around the neighboring areas of the dorm from the 18th to the 23rd.