It's a common thing to hear of people buying celebrities phone numbers from scalpers. Most of the time, they just want to pique their curiosity and try calling their idol to see if they would really pick up. SNH48 member, Lu Ting (陆婷), is the latest victim in which her cell phone number was sold by scalpers and misused by someone claiming to be her fan. However, she had a different experience from other celebrities as she started getting calls from a debt collection agency chasing after her to pay back loans.
SNH48's Li Yuqi Apologizes After Being Accused of Plagiarizing Super Junior's Song
SNH48's Sun Zhenni Denies Dating "Qing Chun You Ni" Contestant, Chen Tao
On October 28, Lu Ting posted a series of messages in the fan club group chats saying, "This Ms. Lou who borrowed money from a lender. Someone is calling me again. I really can't take it anymore. Don't even know where you got my number from, but I must call the police. My temper is not too good. You need to be careful." Lu Ting was asked by a fan how she knew it was a fan that did this and she responded saying this person had used fellow SNH48 member, Feng Xinduo's (冯薪朵), name too for something else before.
Former SNH48 Member, Ju Jingyi, Suspected of Getting Plastic Surgery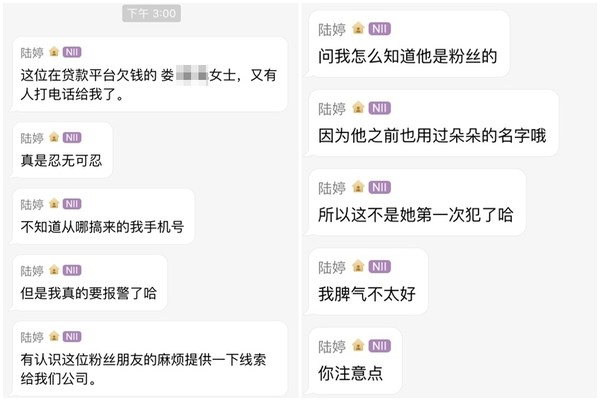 SNH48's First Generation Members Graduate After 8 Years
SNH48's fan club posted on Weibo today declaring they have found this Ms. Lou who used Lu Ting's number. As it turns out, Lu Ting had once vented on August 26 about a debt collection agency calling her nonstop. Ms. Lou had borrowed 3,000 RMB from a lender this year and gave her phone book for them to copy so they can chase after people to get the loan back. One of the numbers was Lu Ting's contact information that was illegally obtained. It turns out this Ms. Lou had bought her number and another idol's number from scalpers. Ms. Lou's parents have already paid back her loans, but the lender didn't update their information and continued to harass every contact number in her phone book to pay back the loan. Lu Ting was one of the victims.
Eliminated "Youth With You 2020" Trainee, Momo, Laments Over Expensive Hair Extension Fee iQiyi Asked Her to Pay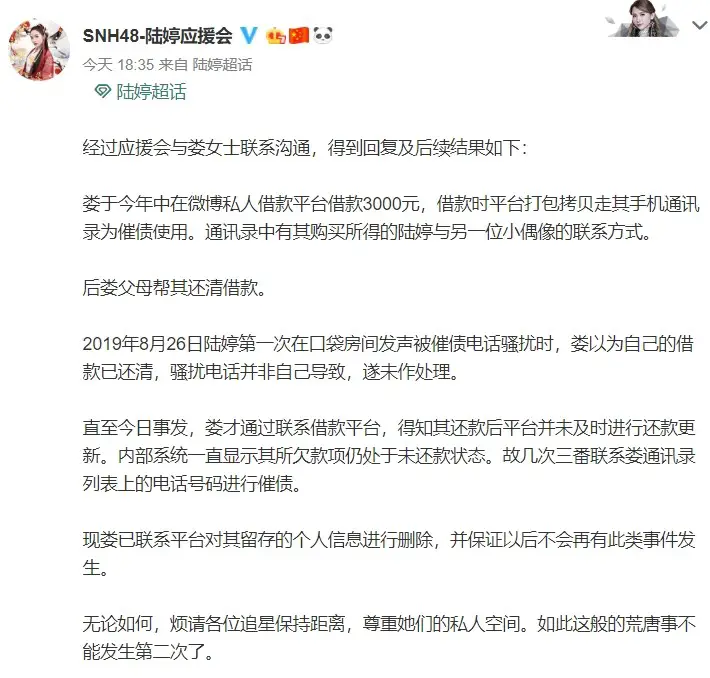 THE9's Kiki Xu and 7Senses Member, Diamond, Show Off Their Tight Friendship
Ms. Lou explains she has already contacted the lender to remove her information and promised this wouldn't happen again. She also apologized to Lu Ting and the other idol for her behavior and explained, "Because I used to really like Lu Ting and another idol. I found out I could buy her cell phone number, so I did it. This behavior has severely damaged this idol's privacy. My behavior is indeed not right, but I confirm I have never bothered this idol." She also said she has already changed her number and didn't keep any idols numbers on her phone.
SNH48 Forms "World's First E-Commerce Idol Girl Group", AW9