Chinese girl group, SNH48, was formed in 2012. After 8 years in the rotation, 12 first generation members are officially graduating from the group. Star48, the management company behind SNH48 and its sub-groups, held their "Once in a Lifetime" live commemorative concerts for the graduating members from October 7-8.
SNH48 Forms "World's First E-Commerce Idol Girl Group", AW9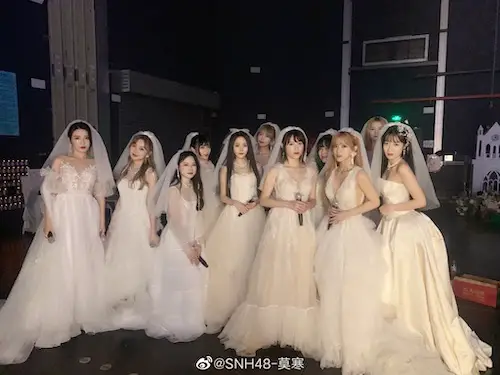 SNH48's Li Yuqi Apologizes After Being Accused of Plagiarizing Super Junior's Song
Of the 12 graduating members, Diamond (戴萌), Kong Xiaoyin (孔肖吟), Momo Mo Han (莫寒), Qian Beiting (钱蓓婷), Wu Zhehan (吴哲晗), Kiki Xu (许佳琪), and Tako Zhang Yuge (张语格) will be signed with Star48 Culture & Media as contracted artists. Xu Chenchen will be signed with Star48 as SNH48's music teacher. As for Chen Guanhui (陈观慧), Chen Si (陈思), Li Yuqi (李宇琪), and Qiu Xinyi (邱欣怡), they will be working hard on this new path they have chosen. Kiki Xu couldn't attend the concerts due to prior work commitments. However, she did gift the audience with a MV of her unit single, "FOX".
Eliminated "Youth With You 2020" Trainee, Momo, Laments Over Expensive Hair Extension Fee iQiyi Asked Her to Pay
Watch Kiki Xu's "FOX" MV: http://t.cn/A6bIUF9K?m=4557855959549272&u=3050737061
Debt Collection Agency Goes After SNH48's Lu Ting After Fan Gives Out Her Number to Borrow Money
While the farewell concerts took place already, the members will officially graduate on October 14. Star48 will be holding an exhibition, titled "Sail Your Dream", in Shanghai from November 1, 2020 to January 31, 2021. This offline exhibition will show the group's history throughout the years, including exclusive pictures, audio, images, and clothing information of the first generation members from these past 8 years. Members will also be providing an exhibit of their personal collections full of past memories.
THE9's Kiki Xu and 7Senses Member, Diamond, Show Off Their Tight Friendship