Back in August, Star48 Culture & Media announced the formation of another SNH48 sub-group, AW9, shortened for After Waves 9 (浪彩少女AW9). The group is being dubbed by Star48 as "the world's first e-commerce idol group" and is geared towards the promotion of products from various business industries. AW9 will be focused on promoting all types of e-commerce products ranging from cosmetics, fashion, beauty, etc. In addition, Star48 will use music, variety shows, films, series, and other diversified entertainment content plus the influence of its artists to promote and market the brand and increase product sales.
SNH48/AW9 Member, Su Shanshan, Calls Out Star48 for Not Promoting Her Properly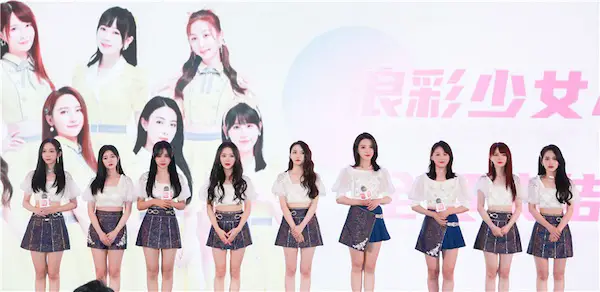 Debt Collection Agency Goes After SNH48's Lu Ting After Fan Gives Out Her Number to Borrow Money
On September 21, the group, AW9, held its showcase and debuted the 9 members: Lu Ting (陆婷), Momo Mo Han (莫寒), Diamond (戴萌), Su Shanshan (苏杉杉), Qian Beiting (钱蓓婷), Liu Zengyan (刘增艳), Zhang Yuxin (张雨鑫), Zhang Yi (张怡), and Liu Qianqian (刘倩倩). AW9 also performed their debut song, "After Wave Girls" (浪彩少女). AW9 will have its first Douyin live stream at the end of October.
THE9's Kiki Xu and 7Senses Member, Diamond, Show Off Their Tight Friendship
Eliminated "Youth With You 2020" Trainee, Momo, Laments Over Expensive Hair Extension Fee iQiyi Asked Her to Pay
In addition to the 9 original members, there will be another group of 9 trainee members joining the AW9 group. The group will operate with the "9+9" members rotation. The 9 original members will be replaced with two trainee members from time to time based on operational results and achievements. The following 9 members will join AW9 as trainees: SNH48's Shu Xian (姝贤), Liu Jie (刘洁), Chen Yuzi (陈雨孜), Wang Feiyan (王菲妍), Pan Luyao (潘璐瑶), GNZ48's Nong Yanping (农燕萍), BEJ48's Qu Meilin (曲美霖), CKG48's Zhou Qianyu (周倩玉), IDFT's Gao Xueyi (高雪逸). All the members will retain their original status within the SNH48 group.
SNH48's First Generation Members Graduate After 8 Years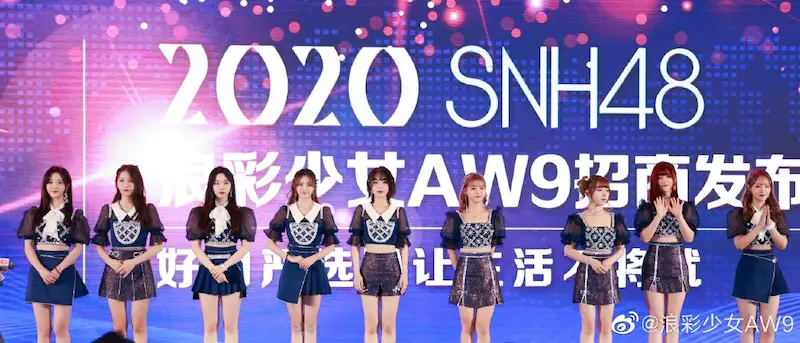 SNH48's Li Yuqi Apologizes After Being Accused of Plagiarizing Super Junior's Song
When the group was first announced by Star48, many fans rejected the group to be labeled as an e-commerce product broadcaster and said "idols are forever idols". Lu Ting responded to the debate saying they couldn't give up their "original job", and that later on, there would be singing and dance performances for everyone on the live streams.