SNH48 member, Li Yuqi (李宇琪) was caught in a scandal recently when she uploaded a clip of her singing a song titled "Islands" on a music platform. Netizens immediately discovered the song was exactly the same as Super Junior's song, "Islands". Super Junior fans got mad and immediately demanded an apology from Li Yuqi.
Debt Collection Agency Goes After SNH48's Lu Ting After Fan Gives Out Her Number to Borrow Money
SNH48's Sun Zhenni Denies Dating "Qing Chun You Ni" Contestant, Chen Tao
This all started in March when Li Yuqi sang her version of the song at her birthday party. She had translated the lyrics from Korean to Chinese. In the uploaded song information, the "Composer" section says "None", while the "Lyrics" section had Li Yuqi's name next to it. As there were no references to Super Junior in her version of the song, Super Junior fans accused Li Yuqi of plagiarizing the song for profit.
Former SNH48 Member, Ju Jingyi, Suspected of Getting Plastic Surgery
Intruder Broke Into and Rummaged Through Wan Lina's Room at SNH48's Dorm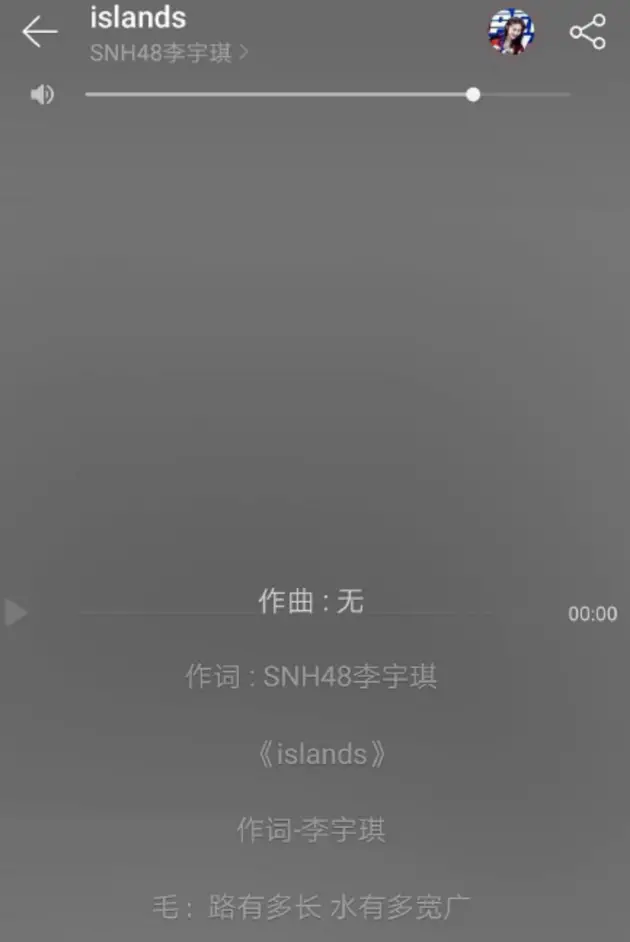 Bambi Zhu Finally Responds to Super Junior's Kim Hee Chul's Love Call
Due to the backlash, she immediately issued an apology explaining, "First off, sorry! Really sorry! It was my fault. I was not careful enough. I should've written the original singer. I don't really know how to use this. When I uploaded it, I labeled it as a cover, but Netease couldn't find this song, so it wasn't labeled as a cover. I was only thinking about fans listening to the song, but didn't think about this area. It was my mistake, sorry! But I absolutely never thought about using it for commercial purposes. I didn't set it up to receive fees either. I don't know about receiving fees either. It was 7,8 months ago, I was happy so I sang this song. Then I uploaded it. At that time, I didn't charge any fees."
Super Junior's Eunhyuk Rumored to be Directing TFBoys for Their Anniversary Concert in Shenzhen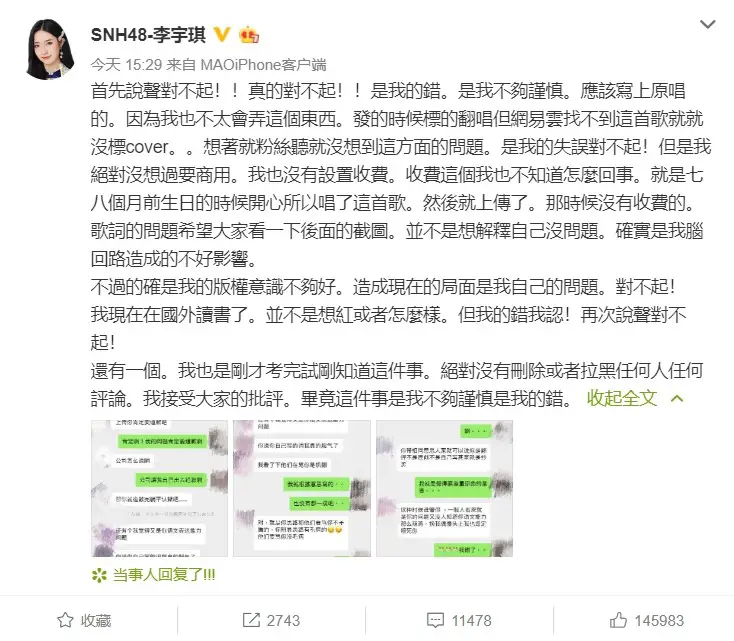 Choi Siwon Angers C-Netz After Liking Tweet Seemingly in Support of Hong Kong Protests
Li Yuqi goes on to explain that her copyright awareness is lacking and that it was her fault for creating this problem. She says she is currently studying overseas and has no intention of trying to get popular from this. She goes on to apologize a few more times. Li Yuqi also explains she had just found out about this and says she didn't delete or report any comments regarding this matter.
SNH48 Forms "World's First E-Commerce Idol Girl Group", AW9
SNH48's First Generation Members Graduate After 8 Years
She also asks people to look at the screenshots of a conversation with her friend explaining that she isn't making up excuses for her actions. In the chats, Li Yuqi was clarifying that she wasn't intentionally trying to plagiarize and only wanted to respect the original work. This is why she tried to follow the original lyrics as possible to translate it into Chinese.