Chinese actress, Bambi Zhu (祝绪丹), gained a lot of recognition starring as one of the female leads, "Zhou Zhiruo" (周芷若) in "Heavenly Sword Dragon Slaying Saber" (倚天屠龙记). The series is adapted from the novel of the same name and has been remade a few times already. Super Junior's Kim Hee Chul is particularly fond of the 2019 drama adaptation and the 1993 movie version, starring Jet Li, and Chingmy Yau, his goddess.
Kim Heechul and Bambi Zhu Take Turns Complimenting Each Other
Han Geng and Kim Heechul are Attending the 2019 COSMO Glam Night
Kim Hee Chul started getting hooked on the series at the end of June. He would often post on Instagram of him watching it on TV and has expressed admiration for Bambi Zhu on multiple occasions. On a Weibo post from July, he even asked if Bambi Zhu and him looked alike.
Super Junior's Eunhyuk Rumored to be Directing TFBoys for Their Anniversary Concert in Shenzhen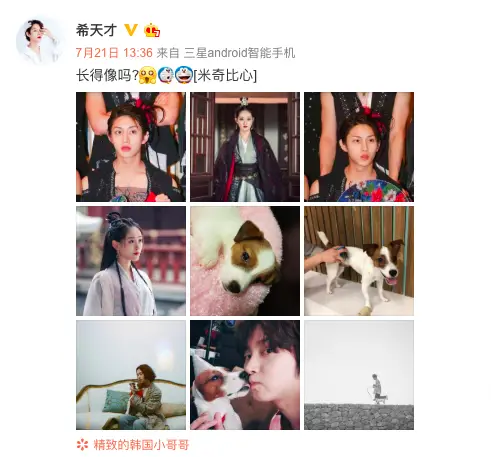 SNH48's Li Yuqi Apologizes After Being Accused of Plagiarizing Super Junior's Song
In the September 1st episode of Korean variety show, "My Little Old Boy", he gets giddy introducing the series to his friend and even tells him, "That's your sister-in-law". When Kim Hee Chul's mother sees this, she says, "Really hope he gets married soon.", eliciting laughter from everyone in the studio.
Choi Siwon Angers C-Netz After Liking Tweet Seemingly in Support of Hong Kong Protests
Former Super Junior Member, Kim Ki-bum, Reminisces with Kim Hee-chul and Why He Left the Group
What was inconceivable was that after the episode aired, Bambi Zhu replied to Kim Hee Chul's Weibo post asking if they looked alike on September 2nd. Bambi Zhu responded, "Hahaha, don't look alike. Thank you for liking "Heavenly Sword Dragon Slaying Saber". You like Zhou Zhiruo. I'll tell her for you." After fans saw Bambi Zhu's response, they quickly left comments on Kim Hee Chul's Weibo and IG posts to tell him. Will Kim Hee Chul respond back to Bambi Zhu?
Former Super Junior Member, Kim Kibum, Congratulates Han Geng on Getting Married

Credit: ETtoday, Weibo (1, 2), Kim Hee Chul IG