Former Fahrenheit (飛輪海) members, Aaron Yan (炎亞綸) and Wu Zun (吳尊), reunited once again at this year's "Super Penguin" Super 3 Celebrity Basketball Game (超级企鹅篮球名人赛). They were once again on the opposite teams. In a recent clip shared today, Wu Zun was seen shooting around to prepare for the game and suddenly realized one of his sneakers was ripping apart. He didn't have another pair of sneakers either. Aaron Yan comes to assess the situation and says he will lend him his pair of sneakers.
Aaron Yan Sometimes Felt Hatred Towards Fahrenheit Members and Why They're Not in Contact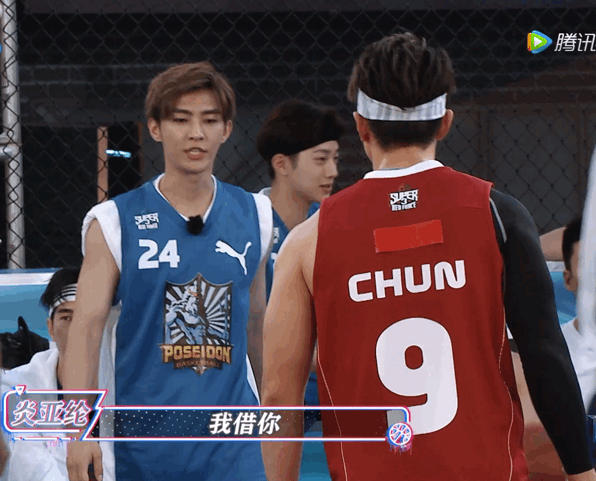 Aaron Yan Blasts Netizen for Asking Him if He is Gay
However, they don't have the same shoe size. So Aaron Yan starts asking everyone for a 10.5 shoe size. Lai Kuanlin (賴冠霖) who is on the same team as Aaron Yan, says he is the same size and offers to lend Wu Zun his shoes. Wu Zun tries on the shoes and laughingly says, "I haven't played in a long time, this is what happens to the shoes. The shoes are busted." Will Liu (劉畊宏), who is on the same team as Aaron Yan, tells Wu Zun to sign an autograph as a lender's fee for the shoes. Lai Kuanlin then says, "Let Wu Zun sign it."
Aaron Yan Forced to Sing Fahrenheit's "Only Have Feelings For You" After Losing Bet to Wu Zun
Aaron Yan Pens Heartfelt Post on Cyber Bullying Stemming from Sulli's Passing
Wu Zun thanks Lai Kuanlin. Aaron Yan then takes a slight sniff of Wu Zun's shoe and pretends to faint. The camera shows Lai Kuanlin barefooted and he says he is watching the game barefooted.
Lai Kuanlin Vents His Frustration at Fans Picking Him Up at the Airport
Aaron Yan was interviewed about Wu Zun's performance after the game was over. He responds, "Remarkable. He tore his own shoes and still borrows our Kuanlin's shoes. Had I known earlier, I wouldn't have helped him borrow. Just wear your busted shoes and play!"
Wu Zun Says Everyone is Overthinking into the Rumors of Aaron Yan Being in Love with Jiro Wang
After the clip was shared online, Aaron Yan tagged Wu Zun, saying, "Had I known you guys were going to play this ruthless, I should've just let you play barefooted." He also tagged Lai Kuanlin saying, "Do your shoes smell? If so, let Zun Baba (爸爸), buy a new pair."
Lai Kuanlin Claps Back at Anti-fan Attacking Him in Dance Video with R1SE's Yao Chen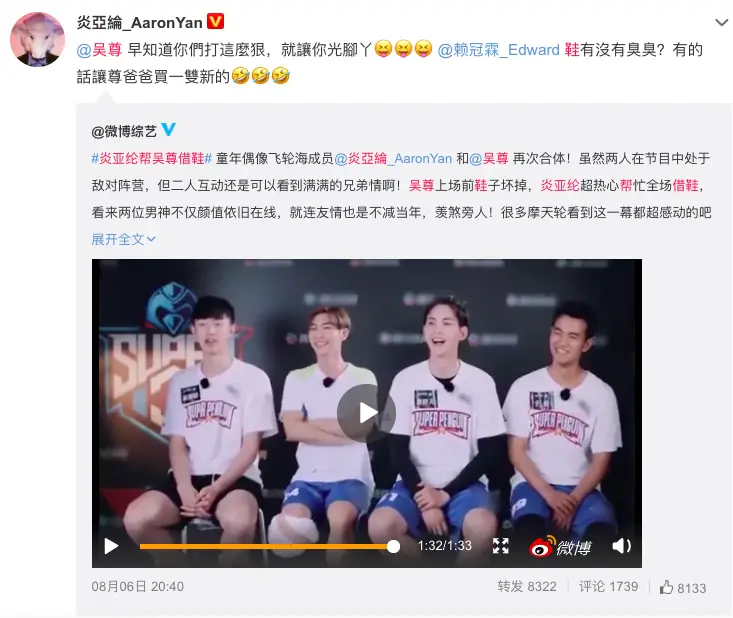 Lai Kuanlin and Xu Kai Get Up Close and Personal on "Happy Camp"
Lai Kuanlin leaves a comment on Aaron Yan's post saying, "Will the new shoes be autographed? Hope I was able to help."

Watch the clip here: http://t.cn/AiTzksaW