Lai Kuanlin (賴冠霖) has been keeping himself busy with the pause on work activities during the COVID-19 outbreak. A few days ago, R1SE member, Yao Chen (姚琛), had uploaded a video of a dance practice with Lai Kuanlin dancing to "fast" by Sueco the Child. First off, who knew they knew each other?! Secondly, everyone was so immersed into the video because they were dancing shirtless.
Lai Kuanlin Protects R1SE's Yao Chen After Anti-fan Strikes Again
Shirtless version:
Lai Kuanlin Apologizes for Smoking and Spitting in Public
Shirt version:
Lai Kuanlin Experienced a Lot of "Firsts" in "A Little Thing Called First Love"
However, a certain netizen seemed to be bothered by Lai Kuanlin's performance in the video. She/he uploaded comparison pictures between Lai Kuanlin and Yao Chen with the caption: "Let's compare. Where does Lai Kuanlin get the confidence to dance next to Yao Chen? One piece of crappy meat vs. eight pack of abs." Unexpectedly, Lai Kuanlin saw this person's post and actually clapped back with his own comment, saying, "If you have guts, take it off. I'll take a look."
Zhou Zhennan and Xia Zhiguang Address Fans' Complaints about R1SE's Anniversary Song, "Yao"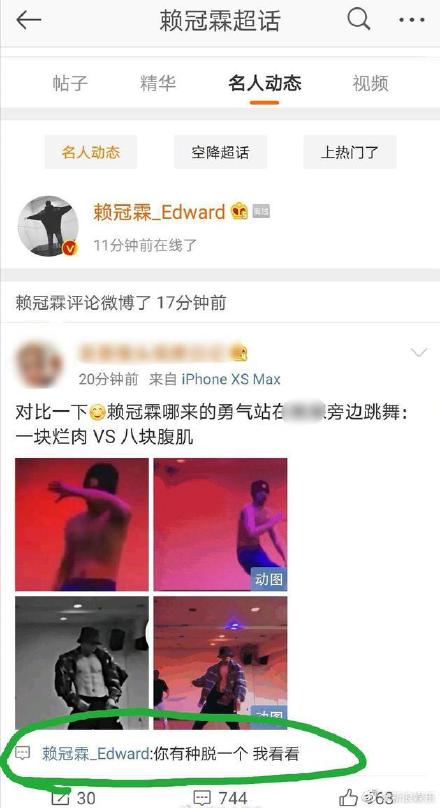 Xia Zhiguang Issues Apology, R1SE Bands Together to Shutdown Rumors of Disbandment and Members Leaving
Netizens took notice of the exchange and quickly left comments supporting Lai Kuanlin. They said, "Anti-fans deserve it. Support Lai Kuanlin.", "I just like such a strong Lai Kuanlin. Hope gege won't be so courteous to anti-fans anymore.", "This person's words are so harsh. He/she should be yelled at."
Lai Kuanlin Issues "One Last Warning" to Those Trying to Hurt His Loved Ones
R1SE Gets Candid about Disbanding and Being a Time-Limited Group
Lai Kuanlin is definitely not an idol you want to mess with. He is known for being outspoken on previous occasions, especially when it came to fans and public safety. Netizens should just enjoy the dance videos.