Greg Hsu (許光漢) is coming for our hearts again. After the highly popular success of the Taiwanese drama, "Someday or One Day", Greg Hsu is tackling the Chinese market. It was announced on February 25, he would be starring in the Chinese movie remake of the 2018 Korean movie, "On Your Wedding Day" (你的婚礼), which starred Park Bo-young and Kim Young-kwang. This movie chronicles the gains and losses of the 15 year relationship between the two leads.
Fans Upset at Greg Hsu's Ex-Girlfriend for not Deleting Old Pics of Them on Instagram
Alice Ko Touched by Greg Hsu Coming to Her Rescue When Asked about Ex-Boyfriend, Wang Po-chieh, Presenting Award to Her
The production team already released posters of Greg Hsu and the female lead, Zhang Ruonan (章若楠). It's reported the movie will start filming and air this year. It looks like it might be another sad ending based on the synopsis of the original movie. If they are following the exact storyline, then the two leads don't end up together. However, when the production team announced the movie, they included two taglines and an animated poster of the two leads that would point to them ending up together.
Greg Hsu on Being Thankful for the 7 Years He was Unknown and Staying True to Himself After Gaining Fame
"There is a type of encounter that is destined."
"There is a type of expectation called your wedding."
"Back to Field" Production Crew Address Comments Saying Greg Hsu wasn't Suitable to be on the Show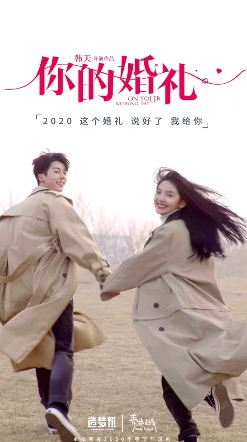 Greg Hsu Reveals His Ideal Type and His Idea of a Romantic Proposal
Greg Hsu also promoted the movie with the tagline on the poster: "This wedding, I promised to give you."