A fan girl of Taiwanese artist, Aaron Yan (炎亞綸), got a rude awakening when she brought her boyfriend to an event to catch a glimpse of her idol. The fan took a picture with Aaron and her boyfriend and posted it on Weibo. Once the fan saw the picture, she jokingly wrote, "Why do I look like a third party in this picture? It was a three person film, why don't I have a name? I regret bringing my boyfriend with me. I'll go home and kneel on the washboard (Blame myself for being short)." It's because her boyfriend's head is seen leaning towards Aaron Yan.
Aaron Yan Pens Heartfelt Post on Cyber Bullying Stemming from Sulli's Passing
Aaron Yan Blasts Netizen for Asking Him if He is Gay
Aaron Yan Forced to Sing Fahrenheit's "Only Have Feelings For You" After Losing Bet to Wu Zun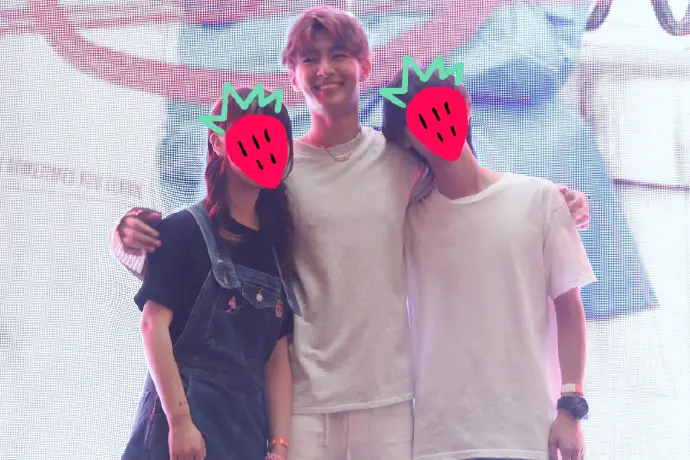 Aaron Yan Has the Most Passionate Fans, Responds to Post Questioning His Popularity
After the picture went viral, her post started trending on the Weibo hot trending list. Many netizens left funny comments such as, "Chasing after stars, in the end, you become the third wheel.", "Why do I feel like the boyfriend's face has such a happy smile?", "I'm curious as to who I should be jealous of?", "Boyfriend needs to kneel on the washboard."
Reporters Ask Aaron Yan if He has a Boyfriend
However, some netizens misconstrued what the fan said and started bashing Aaron Yan. She posted on Weibo explaining: "Suddenly started trending, I feel I must explain something. When I went to bring my boyfriend to see "older brother" (Aaron Yan), he happily congratulated us and told us to treat each other well. When we took the picture, my boyfriend thought he was very warm so he initiated to lean towards "older brother." Aaron Yan is a really good idol and example. When I brought my boyfriend to see him, my hope was to tell him that he accompanied he during my youth. Now, there is someone who can protect me and love me."
Intimate Pictures of Aaron Yan with Male Partners Released, Accused of Dating Three Men at the Same Time
In addition, there was a version of the picture without her boyfriend's face blurred out. She asked netizens not to circulate the bare faced picture of her boyfriend anymore as it was originally just to entertain their fan circle.
Credit: ETtoday.net, 哎呀芒芒 Weibo, Aaron Yan IG