The media and netizens just can't get enough of Chinese actor, Xu Kai (許凱), famous for portraying Fu Heng (傅恒) in "Story of Yanxi Palace" (延禧攻略).  Xu Kai had a string of negative news and rumors ever since he rose to fame.  He is in the headlines again, but finally for something positive.  
Xu Kai Checks on Fan After She Gets Hit by Basketball
Netizens Criticize the Two Actresses Who Shooed Away Xu Kai for Photobombing Their Selfie
Xu Kai and His Ex-Girlfriend's Turbulent Relationship Revealed
Xu Kai's Past Dug Up by Netizens Again
Was Xu Kai Playing Basketball with a Mystery Female?
Xu Kai had an autograph session in China recently.  Many fans went to see their idol to get his signature.  However, one fan betrayed Xu Kai and shared his autograph online, which shows that he wrote the second and third character of the fan's name incorrectly.  The name should've been, "Ma La Tang" (麻辣燙), but he wrote, "Ma Xin Tang" (麻辛湯)."  The fan also revealed Xu Kai paused for a minute before writing the second character.  As for the third character, he told the fan to add a few more strokes to make it correct.  
When Xu Kai caught wind of the fan's post, he reflected on his mistakes.  He uploaded a picture on Weibo of him copying "Ma La Tang" (麻辣燙) over and over again.  However, some fans criticized his handwriting, while some defended Xu Kai for not knowing the characters due to the use of cell phones nowadays and not remembering the characters in the spur of the moment.  Looks like Xu Kai has to add this to his list of things to do!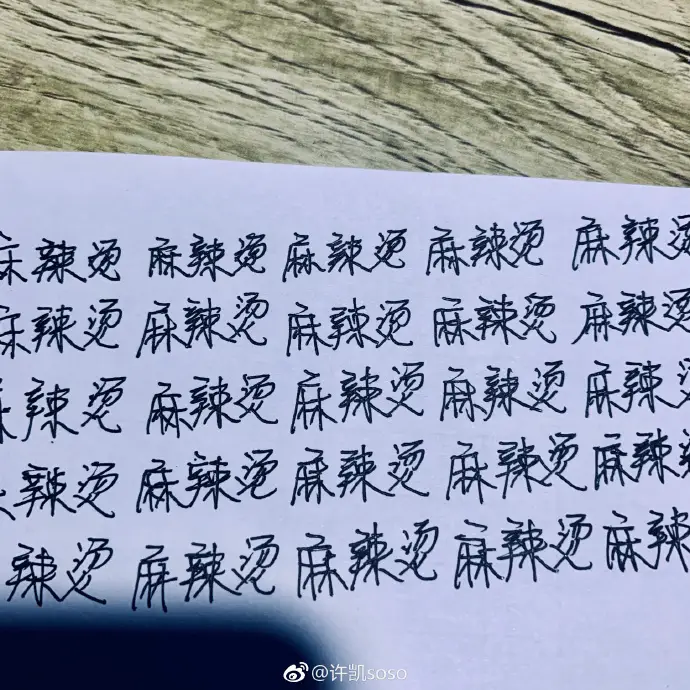 Credit: ETtoday.net, hk.on.cc, Xu Kai Weibo